My favorite event of the year is back,
The Hendricks County 4-H Fair
! As a seasoned veteran of the fair, let me tell you about my experience at the fair this year so that you can get the most out of your visit this week.
Remember the Fair ends July 21! With this year's theme being 70's style as, you will see different attractions paying tribute to that great era. I also saw many fun additions with this theme including a giant 70's flamingo blowing bubbles and people sporting their favorite outfits. As I was walking down the Midway, I saw a new attraction entitled, The Great American Duck Race. This event features live mallard ducks that race in water. What really makes it fun is audience members are selected to race the ducks. As luck would have it, I was chosen and let me tell you holding a squirmy duck is one of the most bizarre experiences! Even though my duck did not win, it was a fun and memorable experience I would recommend to anyone. After the duck races, I had to go see more animals, which is an annual ritual for me and my family. The variety of animals at the Hendricks County 4-H Fair are always amazing and this year is no different.
You see everything from horses and cows to doves and bunnies. My favorite animals had to be the goats. This year they have more goats than can fit in the barn so there are some that are placed outside.
It wasn't long until I worked up a thirst in the summer heat, and the best way to cool off at the Hendricks County 4-H Fair is with a traditional lemon shake-up!
They are available at many vendors and are a highly popular treat! This year they are also featuring flavored lemon shake-ups, such as strawberry lemon! It is $5 for a large drink and $3 for a refill. Not a bad deal if you ask me!
My parents went with me to the fair this year, and their favorite treat is a vanilla milkshake. At just $2, it is another popular treat to beat the heat.
Now finally to the gem of all fair food, the funnel cake! This deep-fried, powder-sugared goodness is my favorite of all the food there. It is large enough to share with multiple people, handmade on the spot and makes for a perfect fair day treat! Once refueled, it was back to the entertainment! I didn't want to miss the Burton Brothers Amusement Park. This fun, extensive area boasts rides and other fun activities for kids and adults, such as a Ferris wheel, high-flying swings and many other fun rides and activities.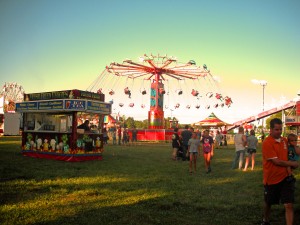 You can purchase tickets inside the amusement park and tickets are good throughout the week. This Thursday they will feature a special deal that allows you access to all the rides that day for one price! Here are some other fun events happening the rest of the week at the Hendricks County 4-H Fair:
For a complete schedule of events for the rest of the week, click
here
.
*Important Note This Year:
It is $5 per carload to park at the fair. If you don't park at the Fairgrounds or Friends Church of Danville across the street (i.e. walk to the fair, park offsite, etc.), you will be charged a $5 admission fee per person.