It's officially summer, which means it's time to sit outside and enjoy a meal and drinks with friends. I've got a new
Hendricks County
 bar and restaurant to do just that. It's called
B Squared Bar & Grill
and it's located in Brownsburg, just north of I-74 in the former Tripp's location along Green Street. B Squared Bar & Grill is a bar, so you must be 21 and over to be inside or outside in their patio seating, and smoking is permitted. But if smoking doesn't bother you and you don't have children or can find a sitter, B Squared Bar & Grill is a perfect option for a date night, gathering of friends or simply a place to watch the big game and enjoy some good food and drink. The patio seating in particular would be a great option for an after-work get together with coworkers!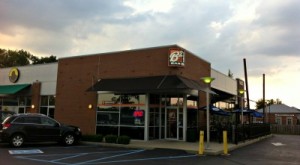 I visited B Squared a few nights ago for the first time as I'm always looking for a new casual bar/restaurant to visit. I'm pleased to report that B Squared has good food and drinks and a fun environment. The night I visited, there was karaoke, which my party enjoyed. We decided to sit outdoors because of the ideal weather the evening we were there and had a blast on the patio, which was packed with about seven tables of diners.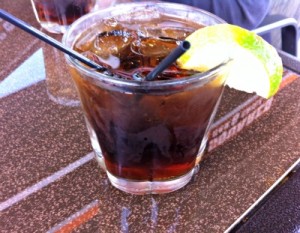 B Squared has regular drink specials and on Wednesday nights, $3.50 mixed drinks. What a deal! Be sure to check their
website
for daily drink and food specials. The owners of B Squared even stopped by everyone's table to check in and say hello and make sure we had everything we needed. That's customer service!
Let's get to the appetizers, shall we?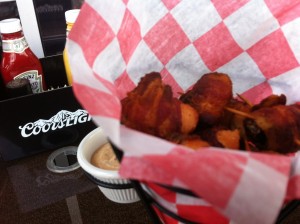 I'm a fan of menus with lots of options, and believe me, B Squared has a variety of appetizers from potato skins and battered mushrooms to toasted ravioli. We opted for the Nedreck Rumaki. You didn't read that backwards. It is "Nedreck." It's a slice of a boneless, breadless, chicken tender, with some Cajun seasonings and a slice of a jalapeno wrapped up in a piece of bacon and cooked in the fryer. They're served in a metal cone with two dipping sauces, barbecue and a spicy ranch. We absolutely loved the Nedreck Rumaki and devoured them all in a matter of minutes. If you enjoy bacon and chicken, you will love these bite-sized creations.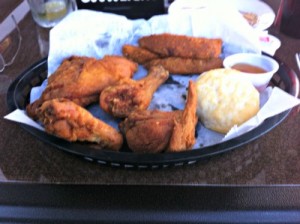 For our entrees, we decided to split a few items, including the very popular Broaster Chicken (which is a combination of pressure cooking and frying chicken). It is served with potato wedges and a biscuit with a side of honey. The Broaster Chicken is cooked to order so it does take a bit longer than the other entrees. We also decided to split a sandwich and ordered the Reuben sandwich with a side of tater tots (I felt like a kid eating tater tots!). You'll find many entrée options on the menu, including, pizza, steak, sandwiches, soups and salads.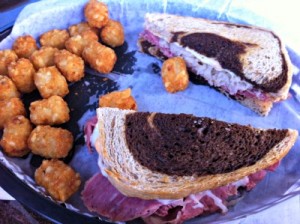 We  enjoyed the Reuben sandwich, filled with plenty of meat, cheese, sauerkraut and Russian dressing. The tater tots were a nice addition to the sandwich. But the real show stopper of our meal was the Broaster Chicken. The pieces of chicken were crispy on the outside and juicy on the inside. This is some of the best chicken I've enjoyed, and it's a bargain at $7.49 for a four-piece dinner. I'm looking forward to my next visit to B Squared Bar & Grill, where you can find good, reasonably priced food and drinks in an adults-only setting. Our meal (for 3) was around $34!
B Squared Bar & Grill
1420 N. Green St., Suite L, Brownsburg,Phone: (
317) 858-1569
.
Website
or
B Squared's Facebook page
 for menu, drink and food specials, location and hours. 
What we ordered:
Nedreck Rumaki: Full order, $6.99, also available in a half order.
Reuben sandwich (we ordered tater tots as the side), $7.95
Four-piece Broasted Chicken dinner (with potato wedges and a biscuit), $7.49