With the frigid cold and snow blowing around, I realize it may be an odd time to think about the racing season. But in Hendricks County, which has quickly become a motor sports destination, there really is not much of an offseason for the men and women in the NHRA who bring us those high-speed thrills and chills.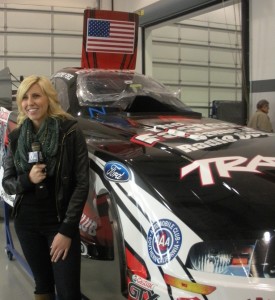 So, on a cold, blistery January afternoon, I found myself last week in
Brownsburg, Ind.
, inside the Midwest Headquarters of John Force Racing as they made a big announcement for the 2012 NHRA Full Throttle Drag Racing Series season.
John Force Racing
is adding a new team with a new sponsor to his stable this year, but with a familiar name behind the wheel. His youngest daughter, Courtney Force, 23, will officially move into the professional ranks in a machine sponsored by radio-controlled car maker, Traxxas, and compete against her old man; teammates, Mike Neff and Robert Hight; and the rest of the stars in the Funny Car division. "I told my dad, 'I'm ready to beat up on the boys, especially him,'" Courtney said while standing in front of her new mostly black car with a smattering of red, white and blue mixed in. After holding a press conference in California the week before, the Force family wanted to make sure they did something similar in Brownsburg, their second home. "We love it here in Indiana," John Force said. "That is why I keep pumping millions into the economy and continue to add square footage to our facility. We want this place to grow."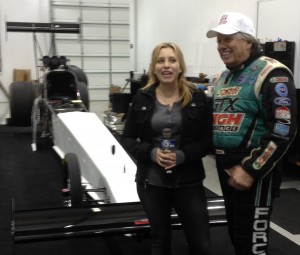 John Force also shared with me how Courtney's addition to his team and the interest from one of his other daughters, Brittany, has re-fueled his fire after a down year for the 15-time champion. Brittany will test a Top Fuel Dragster for John Force Racing, which was also unveiled to the public for the first time during the press conference in Brownsburg last week. For those of you like me who aren't as drag racing savvy, the Top Fuel Dragsters are probably the most recognizable in the series with the two large back wheels and long nose. Brittany Force explains the test car in the video below: [youtube]http://www.youtube.com/watch?v=_YTsqy1HKik&list=UU8x_r855M4mdwKchMOG5J1w&index=1&feature=plcp[/youtube] If this year's testing leads to a future Force entry in the Top Fuel Dragster division, it will be the first time Force's team has ventured outside of Funny Car. I must admit it was amazing last week to be inside John Force Racing's Brownsburg shop full of semi haulers, race cars and crew members who were as busy as ever getting ready for the season's first race in Pomona in early February. If you've never been, you really need to head to Brownsburg to check out it and the many other race teams who have shops in town. Some of them offer tours and John Force even has a gift shop attached called
John Force RaceStation
that is open Wednesday through Saturday. These shops are a must see for any race fan. Then, within minutes, you can complete your trip with a visit to the legendary Indianapolis Motor Speedway in nearby Speedway, Ind. Yes, race season is just around the corner.
Lucas Oil Raceway
is expected to announce its season schedule soon, and when they do, we will cover it here on
All Access Hendricks County
. Before you know it, all of the heavy hitters will be back at Lucas Oil Raceway for the 2012 Mac Tools U.S. Nationals on Labor Day weekend. And we here at the
Hendricks County Convention and Visitors Bureau
can't wait.