Hendricks County
has plenty of options for visitors and residents alike to spend an evening outdoors listening to great music.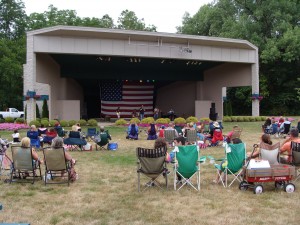 Two of the free events I've attended this summer and had a great time were at
Hummel Park
in Plainfield, Indiana and at the
Town Hall Lawn in Brownsburg, Indiana
. For the Hummel Park concert, my family packed a picnic and enjoyed the country rock band Cornfield Mafia at
Hummel Park Performing Arts Center
, 5373 S. CR 700 East, Plainfield. When we arrived at the center, there was plenty of room to park.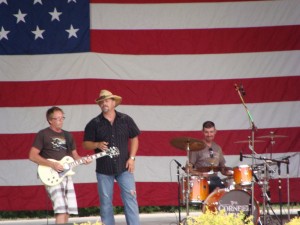 We then made our way to the lawn in front of the amphitheater and found a spot under a tree for our chairs and blanket. During the show, my daughter became a little restless and wanted to go to the playground. Luckily, there are two playgrounds near the lawn, and I could still enjoy the music. You still have two more chances to attend concerts at
Hummel Park
this summer.  On July 28, the Indy Jazz Symphony will perform, and on Aug. 25, Big Rosco will take the stage. Concerts begin at approximately 6:30 p.m. and end by 10 p.m.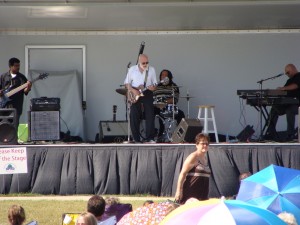 We made the trip to Brownsburg one Sunday night, despite the heat, to see Duke Tumatoe.  This free concert series is held on the lawn at
Brownsburg Town Hall
(61 N. Green St.). Upon arriving, we noticed several people had small tents or umbrellas. I wish I would have thought of that because there is no shade on the lawn. So, if you have a small tent or umbrella, take it with you. There is also a KidZone at the concerts. My daughter loved the UFO-shaped bounce house. It was nice for her to be able to play, and we could still enjoy the music.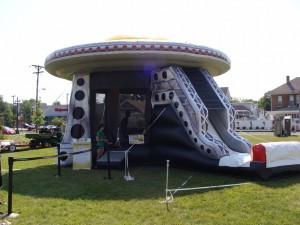 There are two shows left this summer.  Jennie DeVoe performs tomorrow night (July 22) and Cooke & Belle take the stage on Aug. 5. Both will perform from 5-7 p.m. So, pack a picnic, your lawn chairs and a blanket and spend a summer evening in Hendricks County. Please be advised, alcohol is not permitted at either venue.