As the mom of two young boys, there is one thing that I often long for but very rarely get...silence. My little guys are loud and energetic, which is awesome! But sometimes, this mom needs a break. I am always looking for places where they can get their wiggles out, and I can get a few moments of relaxation.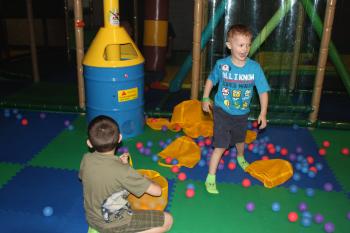 Kid's Planet, a new indoor play area in Brownsburg, provides both. I recently visited with my 6- and 7-year-olds, and we all had a fantastic time. The boys ran, jumped and played for almost two hours without asking me for anything even once! And I was able to enjoy a good book while occasionally glancing up to make sure they were still having fun. 
Kid's Planet is designed for children ages 2 to 14. There's a special area for kids 4 and under, so you don't have to worry about your toddler getting run over by bigger kids. Older kids can enjoy the four-story play structure that has everything a child could want: slides, a foam pit, tunnels, ball shooters and so much more. There's even a play area with kinetic sand!
Attendants keep an eye on the kids while they are playing and are continually making sure the structure is clean. The attendants are also responsible for helping out any kids who may get stuck or get a little spooked about being up high in the structure -- a feature that was very appealing to me at 38 weeks pregnant!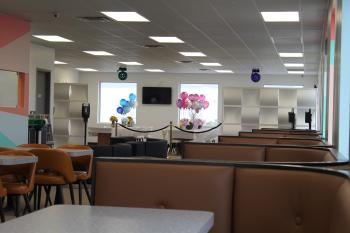 Are you a parent that would rather get in on the fun than sit on the sidelines? You're welcome to get in there, too, and play with your kids as long as you purchase a pair of the required non-slip socks. I saw several parents take advantage of this option while we were at Kid's Planet, and they seemed to have as much fun as their children. 
If you work up an appetite after play time, there's a clean and spacious concession area upstairs. A portion of the upstairs area is also reserved for birthday parties, complete with balloons and fun lighting! All of the food options are what I would call "kid-friendly" choices; we enjoyed pizza, soda and a soft pretzel. Fruit is also available if you're looking for a healthier option. 
Need a break from climbing and jumping? Kid's Planet also features tons of arcade games, available to play at an additional cost. Kids can earn tickets on the games and turn them in for prizes!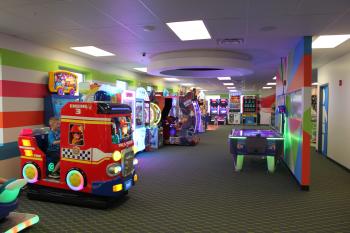 When I asked my boys what they liked best about Kid's Planet, my oldest picked the slides, while my youngest claimed "everything" was his favorite. We didn't get a chance to try out the arcade games, so they are on our list for next time. We will absolutely be back again. 
Kid's Planet is a great destination for local residents, but I think it's also a great spot for out-of-town visitors. Anyone who's traveled with children knows how they can get after a few hours in the car! Kid's Planet is a great place for children to burn off steam while parents get a much needed break.
Ready to make your journey to Kid's Planet? Here's what you need to know:
Kid's Planet is located at 499 Southpoint Circle, right next to John Force Racing headquarters, in Brownsburg.
Kid's Planet is open Monday-Thursday from 10 a.m. to 8 p.m.; Friday and Saturday 10 a.m. to 10 p.m. and Sunday 11 a.m. to 7 p.m.
Unlimited play is available Monday through Thursday, and play time is offered in two-hour blocks Friday through Sunday.
Admission is $8.99 per child. Special non-slip socks must be purchased for $2.49, but you can bring them back for future visits. Parents are free, but if they want to play they must purchase socks.
Wifi is available if you want to get some work done while your kids play!
Outside food and drink are not allowed, but the concession stand is always open.