I love live theater, so this assignment was a treat for me. I had never seen a production in the Longstreet Playhouse in rural Danville, Indiana, so I was excited to check out the former church turned playhouse.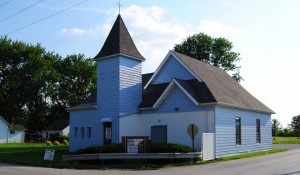 I had the opportunity to see a dress rehearsal for the
Hendricks Civic Theatre's
 production of the comedy "Hallelujah Girls."
The Show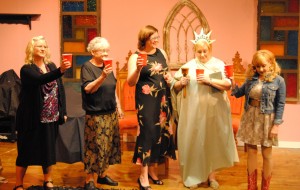 "Hallelujah Girls" definitely delivers laughs. The story follows the lives of a group of women looking to change their lives and achieve their dreams after the death of a friend. One of the women, Sugar Lee, decides to turn an abandoned church into a day spa. After the opening of SPA-DEE-DAH!, the friends make this a weekly meeting place. Then things get interesting when Sugar Lee's ex-boyfriend arrives to install a sauna. Sugar Lee is also faced with an old high school classmate trying to put her out of business. If you like shows such as "Steel Magnolias" or "Dixie Swim Club," you will like this show.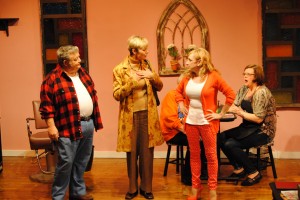 The Theatre
"Hallelujah Girls" is performed at the Longstreet Playhouse in Danville. With just over 80 seats, this venue creates an intimate theater experience. The playhouse is the former Maplewood Christian Church, which was gifted to the Hendricks Civic Theatre in 1998. The theatre is named after the Long family, who were integral part of the church and community. The theatre is located at 4998 N. County Road 100 East, Danville, IN 46122. Due to limited seating, reservations are suggested.
Dinner Before the Show
If you looking for a place to dine before the show, consider restaurants in Danville or Pittsboro. For a list of restaurants
click here
. This weekend is your last chance to check out the show, so make your reservations today.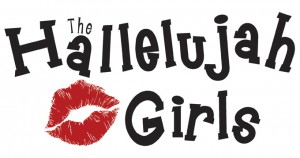 Hendricks Civic Theatre
Hallelujah Girls
June 28 & 29 at 7:30 p.m. and June 30 at 2:30 p.m.
Longstreet Playhouse
4998 N. County Road 100 East
Danville, Indiana
Tickets: Adults $12, Youths & Seniors $10
(317) 252-9626
E-mail: reservations@hendrickscivic.com