After being closed for 15 months due to the COVID-19 pandemic, Red Curb Improv Comedy Theatre reopened its doors to live in-person audiences earlier this month.
For now this comedy destination in Avon, Indiana, will host two live shows every Saturday and stand-up comedy on select Friday nights.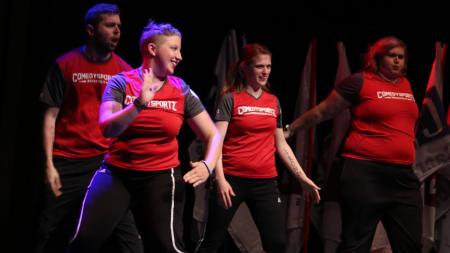 The new Saturday lineup temporarily features ComedySportz Indianapolis, a long-running improv comedy franchise in residency. They will handle the 7 p.m. early show for all ages with their fast-paced, high-energy interactive improv comedy where two teams of improvisers compete in a series of short-form improv games to win points from the audience. Doors open at 6:30 p.m.
The Red Curb Main Company cast will continue to entertain during the 9:30 p.m. (R-rated, adults-only) show. Doors open at 9 p.m.
To reopen as safely as possible, Red Curb said they will cap the theater's capacity at 60 percent for now and will expect audience members to wear a mask when not actively eating or drinking.
With the re-opening guidelines out of the way, here's what you need to know about Red Curb:
What is Improv Comedy?
In general, the easiest way to describe this Chicago-style form of comedy is by what you see on the TV show, Whose Line Is It Anyway?
But if you've never seen that show either, the Red Curb cast comes out on stage and performs three sets: short form improv, long form improv and an improv musical. Short form is a series of short games or skits, usually taking suggestions from the audience that they've never seen before and coming up with something funny on the spot.
Long form gives the comedian more time to explore one audience suggestion from which performers create a narrative and characters to form a story or montage.
The third set the performer makes up on the spot with live music.
What Can Visitors Expect?
First of all, you better come prepared to laugh and participate. The times I have attended, the Red Curb performers play off the crowd, feed off their energy and even use them occasionally in their skits.
As soon as we walked in, we were drawn into the fun by being asked to write movie lines on slips of paper. Audience members put their suggestions in a box on stage and watched throughout the show as their lines were randomly chosen to be incorporated into short games or skits.
The performers provide a unique skill set of creating, listening and reacting to create comedy on the spot making each night and every performance different.
The small blackbox theater, which seats around 70, is the perfect venue for an evening of interactive entertainment. The chairs are arranged on three sides of the stage, and there isn't a bad seat in the house.
 The unpredictable format and intimate setting make it a perfect to enjoy with friends or on a date night. The times I went, we did dinner at a local Avon restaurant ahead of time making it a full, fun night out.
Tickets & More Info
Red Curb is located at 8403 E. U.S. 36, Avon, Indiana. Concessions, including alcohol drinks, are available, and the shows do have a break or intermission between sets. The entire show including breaks lasts 90 minutes.
Tickets start at $15 if purchased in advance or $20 at the door.
To purchase tickets or for more information, visit the Red Curb website. You can also find them on Facebook.