My family loves water parks. In fact, my son loves them so much we plan vacations around them.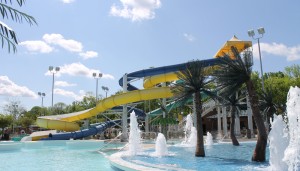 So, to have
Splash Island
, an amazing, affordable outdoor water park, right here in
Hendricks County
has always been a fantastic alternative we sometimes take for granted. For those of you who have never been to this tropical-themed, Plainfield, Ind., oasis during its eight-year existence, Splash Island boasts 3 acres of water fun including three water slides, an interactive play area for all ages including kiddie slides, water jets, ropes and guns, a gentle winding river, lily pad crossing and two pulsating vortexes.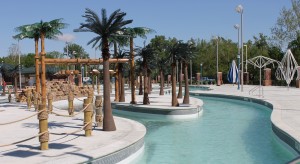 However, when the park opens this year on Memorial Day weekend, it will be much bigger with one noteworthy new feature,  a 900-foot leisure (or lazy) river. I took a tour of the updated park a few weeks ago and again this week with Nate Thorne, deputy director for Plainfield Parks and Recreation. I just can't express in words how big, both figuratively and literally, this is going to be for Plainfield and Hendricks County. Seeing this 1½-acre expansion firsthand had me ready to jump in. The 12-foot-wide winding river has plenty of water features, including waterfalls, buckets of water dumping on the heads of those floating by on a tube and plenty of palm trees that have become a staple inside the park. The river was built on the east side of the existing park and includes a zero-depth entry making it easy for any age to enjoy.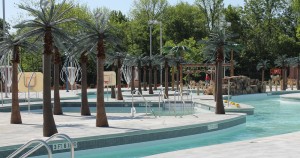 Those in the leisure river also will have the option of getting off their tube as they pass a new water basketball area. That 30-by-50-foot space will allow users to shoot some hoops or even start a game while keeping cool in the water playground. The new $3.6 million expansion should prevent park staff from turning away people as total capacity of the new park increases from 1,500 to 2,300 and will include more deck space, about 400 more deck chairs and a few more of those giant umbrellas. As anyone who visited this park on a hot summer day the past few years can attest, the park easily reached capacity too often as its popularity increased regionally. In addition to all that, the park's other amenities remain including an insider tip that many people forget about: A one-day pass to the outdoor facility also gets you into the adjoining indoor Recreation Center if you want to get out of the sun, get away from the crowd or if bad weather rolls in. The indoor Recreation Center includes numerous basketball courts, exercise equipment, a running track, and a smaller indoor water park among other amenities.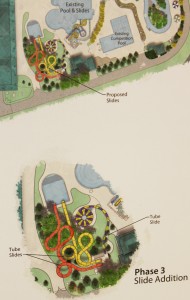 While I assumed Nate and his staff were just happy to have this new expansion almost ready to go, he already has begun to shift some of his attention to the park's next expansion. Slated for 2016 (though it could come sooner), three more water slides are planned. Two of the slides would provide a new aspect to the park as they would require riding on a tube. The third would be the park's fourth body slide with a different twist. Actually it will be those in the slide that will be twisted as it will have one of those giant bowl features that funnels each rider around and around almost like you are being flushed down a toilet bowl. My family can't wait.