I've enjoyed fishing for a long time, and I recently learned to fly fish. I admit, I love the movie,
A River Runs Through It
 . To me, fly fishing always seemed so relaxing and tranquil.
A month or so ago, I completed two fly fishing classes, and now I am looking for more fly fishing classes and places to fish. I've found a class in
Hendricks County
, and it's this Saturday, Aug. 4 at
McCloud Nature Park
 in
North Salem
. If you enjoy fishing, want to learn or just love being outside -- this class is for you! Just think -- plenty of blue skies, tall trees and the chance to catch a fish! Best of all, the class is free! McCloud Nature Park is a not-to-be-missed park filled with miles of trails and gorgeous Big Walnut Creek (a perfect place to fly fish).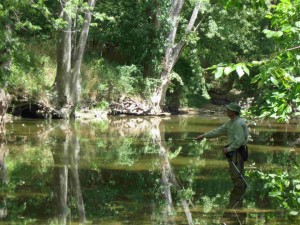 I actually checked out the park for the first time this weekend for a little fly fishing in preparation for this blog post, and it is absolutely beautiful. As a person who lives just outside of Hendricks County, it is a little bit of a drive, but well worth the trip. I can't wait to go back there. Three things about fly fishing to consider in deciding whether to participate in this weekend's class:
Fly fishing is for kids and adults (a sport you can enjoy with your kids or grandchildren).
Want to learn more about nature? You'll see all kinds of wildlife while you're fishing (besides the fish, you can play a game of identifying flowers, trees and birds).
Need some peace and quiet? You'll find it while you're fly fishing. It's usually quiet and you can't help but slow down your thoughts while you're concentrating on casting.
Here are details on the fly fishing class at McCloud Nature Park:
When: 10 a.m. Saturday, Aug. 4.
Where: McCloud Nature Park, 8518 Hughes Road, North Salem, Indiana.
Ages:  10 and older.
Cost: Free though registration is required by calling (317) 718-6188
Class length: 2 hours.
Information: Equipment will be provided and there will be instruction on the fundamentals and everything else you'll need to know in order to start fly fishing.
Should you want to practice what you've learned in Big Walnut Creek, you will need a current fishing license, which can be purchased online at 
Indiana Department of Natural Resources
or at retailers such as
Dick's Sporting Goods
. Directions to McCloud Nature Park are available on
their website
. (Pay close attention-- in case you tend to get a bit lost, like me).