I am a supporter of independent restaurants, but haven't written about
Green Street Pub & Eatery
since my post on
Hendricks County's Best Sandwiches Part II
. It's time I changed that. My parents are newbies to Green Street, so we decided to dine there on a Thursday evening after hearing a lot of rave reviews about their famous chicken wing special. I have a bit of a weakness for chicken wings, and it didn't take much arm twisting to invite my parents with me to sample some chicken wings and other dishes on Green Street's menu.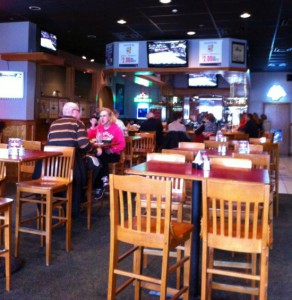 Green Street Pub & Eatery has been in business for 15 years and is located in the Brownsburg Square Shopping Center, between the Kmart and Kroger. We walked in and decided to eat in the separate bar area, so we could try the chicken wings, which are a bar-only special on Thursday nights. The bar area is for adults only, but there is a dining room for families and those who do not want to dine in the bar. We were warmly greeted by our server, Cindy, who went over their specials and gave us a few recommendations. As a former server and someone who worked in restaurants, I always appreciate it when a server gives recommendations and is extremely knowledgeable about the menu.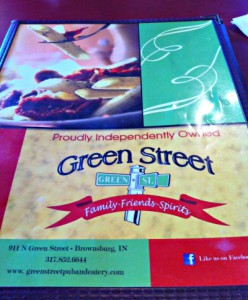 We ordered our drinks (alcoholic beverages are very reasonably priced and there were a few beer specials), watched a bit of the games on the TV in the bar and decided to dig into the menu. Green Street has a large menu with plenty of appetizers, sandwiches, steaks, and pasta entrees. It took a few minutes to decide, but we agreed to order plenty so we could share. It's always fun to dine with my parents, who are game to try a bunch of different things and share with me.
Appetizer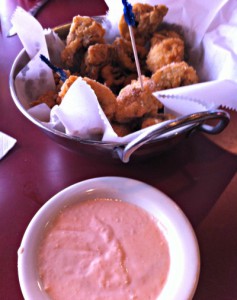 Fried mushrooms served with an aioli dipping sauce.
I confess that breaded mushrooms are one of my favorite appetizers, and these were fresh and piping hot. Coated with a light breading and served with a homemade horseradish dipping sauce on the side, I had several of these because they were so fresh and juicy. But there were plenty for the three of us to enjoy.
Dinner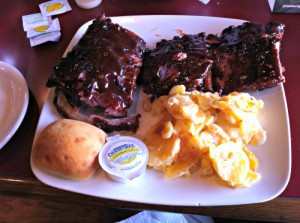 Rib dinner with Au Gratin potatoes and a side salad with Italian dressing.
The rib dinner (a full slab) was one of the nightly specials that my dad ordered. He raved about how they were fall off-the-bone tender, and he liked the sweet sauce. He also enjoyed the au gratin potatoes. I had a few bites of both and agreed wholeheartedly.
Chicken wings.
My mom and I decided to split a salad and some chicken wings. The chicken wings are smoked and our server Cindy told us that you can eat these wings with a fork because they are that tender. My mom and I decided to split 10 wings. They're available with a variety of sauces. We decided to order five with Teriyaki sauce and five with chipotle sauce. We had plenty to share and the wings were perfectly cooked and so tender. I especially loved the chipotle sauce which was sweet with a bit of a kick. We ordered a side of blue cheese dressing with the wings, which was perfect for dipping. We also enjoyed our salad, served with a house-made ranch dressing.
We were too full for dessert, but the raspberry cheesecake did sound incredibly tempting.
After our meal, we chatted with the owner, Kim Hamilton-Dalton. I could tell how much she loves Green Street Pub & Eatery and is so proud of owning a long-time, independent Brownsburg restaurant and catering business, which is managed by her twin sister, Kelly Rhoades. It's an added bonus when you dine at a restaurant where you know the owner and staff really care about the food and their customers. Kim gave me a tour of the private dining room, which is an ideal place to hold a private party or rehearsal dinner, and their main dining room, which was packed on a Thursday night. The dining room has a warm atmosphere, and I ran into a few friends there who were on a "date night."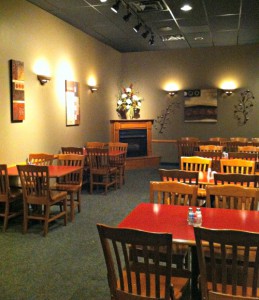 My parents and I agreed that we had a great dining experience with good food, reasonably priced drinks and very attentive and efficient service. I'm looking forward to dining there again very soon. Those chicken wings and mushrooms already are calling my name.
Insider Tips
Green Street Pub & Eatery is family-friendly, and there is a kids menu and kids will stay occupied with the TVs in the dining room and two aquariums.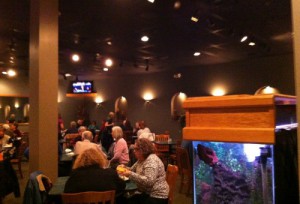 7 For $7 lunch menu: In addition to the regular menu, there are 7 lunch options available for $7 with tempting options like a Hot Ham & Cheese Sandwich or  a Pepperoni French Bread Pizza.
10 For $10 dinner menu
: In addition to the regular menu, there are 10 dinner options available for $10 with more tempting options like a Crusted Flat Iron Steak or a Breaded Fish Platter.
Weeknight specials
Tuesday nights: Live trivia from 7 to 9 p.m. in the bar area.
Thursday: Chicken wings, available in the bar only.
Friday night: Prime Rib Dinner Special and a Fresh Fish Special.
Saturday: Live entertainment (through the end of April).
Green Street Pub & Eatery
911 N. Green St., Brownsburg, (317) 852-6644Hours: 11 a.m. to 11 p.m., Monday through Thursday and 11 a.m. to midnight, Friday and Saturday. Closed Sunday.For more information, visit their
website
 or
Facebook page
.