One of my favorite ways to start off my weekend is to go out for breakfast (or an early lunch). It's a good way to set the day off on the right foot. My dad always told me that going out to breakfast feels like the start of a vacation. You've got a whole new day in front of you. I couldn't agree more.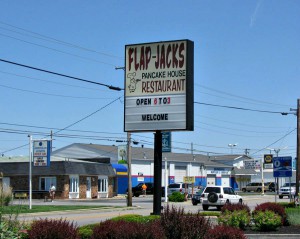 A local favorite breakfast spot in Hendricks County that I always wanted to try but hadn't was 
Flap-Jacks
in Brownsburg. I had heard so many good things that I thought a hearty breakfast there would be a perfect start to a full day of exploring
Hendricks County
. Flap-Jacks has been in Brownsburg since 2002. There are three other locations in the Indianapolis area, including a Plainfield location.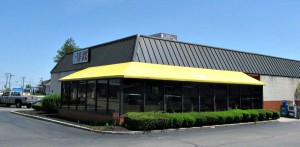 Flap-Jacks' Brownsburg location is easy to find with its location on Main Street, right in the heart of Brownsburg. I went to Flap-Jacks on a recent Saturday and found it busy, which is always a good sign. There's a selection of booths and tables and a sign with daily specials. We settled in with our menus and looked over them for a bit. The menu is sizable and there is something for everyone from crepes, pancakes and waffles to omelets and skillet dishes. And, that's just the breakfast side of the menu! The lunch menu includes sandwiches, soups and salads. You definitely want to take your time looking over their menu because there are literally hundreds of items to order. Think of Flap-Jacks as a full-service diner. I noticed many of the servers and staff knew many of the customers. It's definitely a local favorite. It reminds me of a few breakfast spots I used to go to with my grandparents, where the staff knew me and always asked how I was doing. I felt like part of the family during my visit to Flap-Jacks.
We decided to order breakfast and lunch, since I wanted to try one of the lunch entrees. My friend ordered the blueberry pancakes with a side of bacon, and I ordered the Greek Combo (gyro meat, spinach pie, Greek olives, pita and a side of Tzatziki sauce). The service was super-friendly and efficient and our food was delivered quickly. We never had to ask for drink refills or anything else. They definitely have experienced servers! Between our meals, I preferred my friend's blueberry pancakes. They were large, buttermilk pancakes with plenty of blueberries. I would definitely order these the next time. If you're looking for a family-friendly place, with a lot of local love, you'll find it at Flap-Jacks.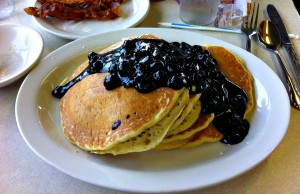 Insider Tips
Get there early: Flap-Jacks has a loyal and devoted following and weekends are especially busy. Get there earlier to miss a longer wait in line.
Take your time: Settle in with a cup of coffee to look through the lengthy menu.
Discounts: Check the menu for kids meals and info on senior discounts.
Recommendations: The restaurant is named Flap-Jacks, so you gotta try those pancakes!
Need some ideas where to go after?  Explore Brownsburg after a visit to Flap-Jacks. Check Visit Hendricks County's website for ideas and tips on what to do in Brownsburg or anywhere else in Hendricks County.
Flap-Jacks
633 E. Main St., Brownsburg or 414 W. Main St., PlainfieldHours: 6 a.m. – 3 p.m. 
Have you been to Flap-Jacks before? What's your favorite menu item there? Leave us a note in the comments section below.