The Lizton Dairy Bar is my favorite ice cream shop in Hendricks County. This popular landmark is the perfect spot to take my family for delicious cool treats on those hot summer days and nights.
Hungry for hot treats as well?
No worries, the Dairy Bar offers many tasty options! This quaint, old-fashioned establishment certainly evokes a feeling of nostalgia for the simpler times. The staff is super friendly, efficient and hard working!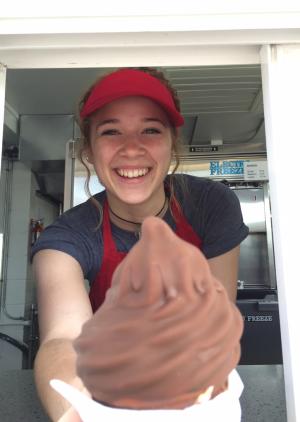 One of the perks of blogging is you get a behind-the-scenes look at how the operation runs and realize how much hard work and dedication makes a business a success. After meeting the owner, Phyllis Alexander, it is easy to understand why the Dairy Bar is so popular.
Phyllis and her husband, a Brownsburg native, bought the Dairy Bar in 2011. Neither had prior experience in the restaurant business. She had been a hairdresser and her husband a farmer.
But Phyllis always enjoyed cooking and feels her place is in the kitchen. As one of 14 children, she would help prepare and cook for her family. Through her church, she prepared dinners for families after funerals, sometimes for up to 200 people. 
Their grandson lived with them his senior year of high school. Upon graduating, they wanted him to have a job and learn how to manage a business, so they purchased the Lizton Dairy Bar. 
Living just minutes away, they knew how important it was for this small community to keep the Dairy Bar while providing the same food and friendly service. However, they had to gut the inside of the building, replace almost all of the equipment (including removing a walk-in freezer and installing a new one outside), and they spent hours upon hours cleaning.
The inside of this establishment is immaculate, and it's obvious that Phyllis and her employees take great pride in keeping their work space clean. She hires mostly high school and college students and many work there each summer. Phyllis speaks very highly of her employees' professional work ethic, achievements in school and growth as young men and women.
"They make this business a success", Phyllis told me. She remains extremely dedicated herself...working from open to close every day, sometimes up to 90 hours per week. Not too many 69-year-olds or even 39-year-olds could or would do that.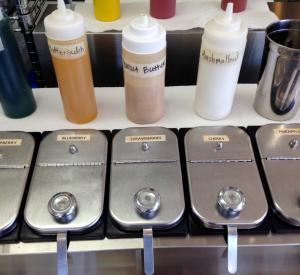 The Lizton Dairy Bar's cold treats remain the staple of their business. Their chocolate shake remains their most popular. Other offerings include flurries, floats, freezes, sundaes and soft serve ice cream. I usually indulge in a Heath flurry, but next time I'm going to try something new.
Phyllis let me taste their delectable homemade sundae sauces, so looks like a sundae with cherry sauce is in my near future.
I also sampled an old-fashioned chocolate soda that is popular among the older crowd. These days its difficult find this classic item! Only three ingredients make up this tasty drink, soda water, chocolate syrup and vanilla ice cream (which, by the way, contains a secret ingredient at the Dairy Bar to enhance the taste).
The Dairy Bar are also boasts an amazing homemade strawberry shortcake. Phyllis' mother-in-law created the shortcake recipe many years ago. Make sure to give this fabulous treat a try on your next visit! 
Stopping in for lunch or dinner? I would recommend a "taco" item...choices include soft shell tacos, waking taco or taco salad. I chose the walking taco which contains Frito type chips, ground beef mix, cheddar cheese, fresh lettuce and tomatoes, sour cream or ranch sauce and homemade hot sauce. The homemade ground beef mix and hot sauce are flavorful and complement the entire dish.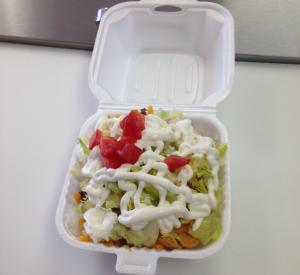 Phyllis takes great pride in her recipes and cooking skills. Hamburgers and pork tenderloins are also hot ticket items! The hamburgers are good size and juicy. The pork tenderloins have to be cut in half to fit on the bun and are cooked to perfection. Some other menus items include: coney dogs (sauce is homemade), sloppy joes, grilled chicken sandwiches, mozzarella sticks and fried pickles.
The Lizton Dairy Bar, 102 W. Main St., is conveniently located at the intersection of U.S. 136 and Ind. 39. Plenty of parking is available if you want to order at the walk-up window, and picnic tables are set up to enjoy an outdoor meal.
Phyllis planted a flower garden near the tables to add some ambiance to the area. Drive-through service is also available for those on the go. During busier times, Phyllis or one of her employees will walk up to your car and take your order while you wait in line to speed up the process as they don't have a speaker system in the drive through.
Ideally the Dairy Bar is open from April 1 through Halloween but, as we all know, Indiana weather is very unpredictable. Therefore, those dates can change. During the busiest months, June and July, they are open 11 a.m. to 9 p.m., Monday-Saturday and 2-9 p.m. on Sundays. This allows employees to attend church with their families.
As we head into back-to-school time and fall, the hours do change, so it's best to call ahead to (317) 994-5399.
Around the end of September, Phyllis prepares homemade pumpkin pies for the Dairy Bar's signature fall dessert. Each pumpkin pie flurry contains a piece of actual pie. Personally, I love anything pumpkin, so I'm really anticipating this item! Pumpkin pie plus amazing ice cream seems like the perfect combination.
I simply can't recommend the Lizton Dairy Bar enough to any resident or visitor. It is a true local favorite and the first place to consider the next time that ice cream craving hits!