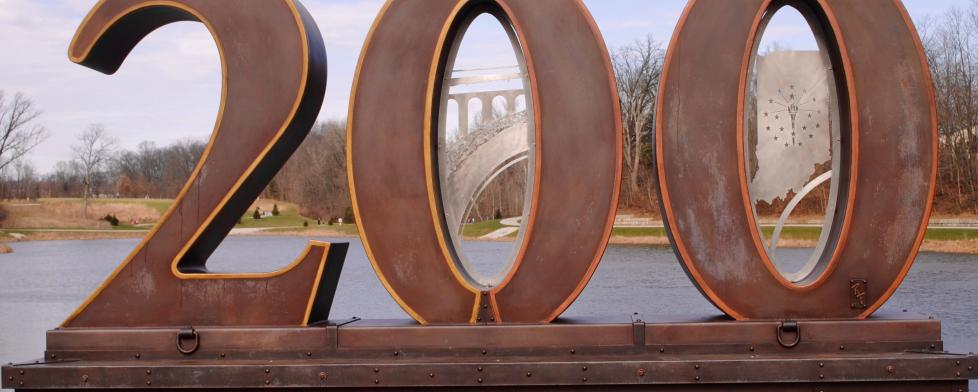 You are reading history right here, folks. This is my 200th blog post for Visit Hendricks County. Two hundred. That's a lot of words -- and it would be a lot more words if my editor hadn't spared you from my verbosity over the years.
My very first blog post for Visit Hendricks County appeared online on May 21, 2012, and it previewed the 67th Annual TourHendricksCounty.com Night Before the 500 that was run at Lucas Oil Raceway. Five years later, Tour Hendricks County is now Visit Hendricks County, the Night Before the 500 is now the Carb Night Classic...Race Before the 500, and Lucas Oil Raceway is now second-nature to me, unlike in 2012 when I constantly struggled to remember the new name of the track that had recently rebranded.
It's strange to think that I'm the last original Visit Hendricks County blogger, and that I'm on the doorstep of being its most-published writer. Five years and 200 blogs posts have flown by, which is a good indicator as to how much fun I've been having exploring the county that I love.
Looking back on my body of work with Visit Hendricks County, so many memories come flooding back of the adventures I've had and the people I've met along the way.
My Editor Made Me Bake
My main background before coming to Visit Hendricks County was writing for Yahoo Sports, so it made absolutely no sense to me why my editor tasked me with baking a pie.
Through that assignment, though, I met Debbie Beasley from Beasley's Orchard in Danville for the first time, and she guided me through the apples that I'd need to make a good pie. Despite me growing up in Washington State, Debbie has forgotten more about apples than I've ever known, so her help was crucial to me overcoming my editor's evil chuckle and completing the assignment.
I Learned How to Interview People
Interviewing athletes for Yahoo Sports is much different than interviewing people in Hendricks County. Athletes don't have a lot of time -- or often, desire -- to talk to writers, so when I had an opportunity to interview an athlete, I made sure that my questions were quick and to the point. If I was lucky, interviews would last a couple of minutes, tops.
In 2014, I took that interviewing style into the Red Horse Livery in Coatesville, but shop owner Nikki Valorani would have nothing of a quick interview. As I began peppering her with questions about her shop, she gave me a funny look and finally invited me to sit down with her for a cup of tea.
We sat and chatted about all sorts of things, some of which related to her shop, most of which didn't. I learned about her, about the history of Coatesville, about the artists who brought her pieces to sell at the Red Horse Livery, about her friends and neighbors and about her passion for horses. She slowed me down and forced me to fully appreciate the interview process rather than simply trying to extract as much information as I could in as little time as possible.
The resulting blog post doesn't do justice to the value of my interview with Nikki. Sadly, she passed away shortly after I met her, which resulted in the closing of the Red Horse Livery. Her lesson remains with me today, though, and every time I interview someone, especially if that person runs a consignment shop such as The Artisan Marketplace in Plainfield, I think of Nikki.
I Found My Favorite Place to Eat
The lessons that I learned from Nikki translated into a wonderful interview with the owner of what I've discovered to be my favorite place to eat in Hendricks County: Perillo's Pizzeria in North Salem.
You can't spend any amount of time around owner Damiano Perillo without his enthusiasm and passion for food and for his community enveloping you. I had a fantastic time visiting with him in 2015, and it resulted in a blog post on the Top 10 things you should love about Perillo's Pizzeria.
To this day, every weekend after my daughter finishes up her softball practice in North Salem, she and I go to Perillo's. I still order the sausage roll calzone. My daughter devours their pizza.
Admitting Mistakes is Okay
I started working for Hendricks County Parks & Recreation a year ago, and our new superintendent, Jeremy Weber, started a couple months later. One of our first major events to plan and execute was the Fall Colors Festival at McCloud Nature Park outside of North Salem.
We heard from our more experienced coworkers that the previous year's festival had left a lot to be desired. A lot of things went haywire on the department's end, which led to festival-goers being underwhelmed. When I was assigned to blog about the 2016 Fall Colors Festival due to my inside knowledge of the planning, Jeremy and I had to decide how we wanted to address the elephant in the room of the previous year's disappointment.
Jeremy's decision: meet it head-on, acknowledge our department's past shortcomings, and talk about what we're doing differently so as to not make the same mistakes in the future.
I held my breath as my post about the improved Fall Colors Festival was published on Visit Hendricks County's blog. Lo and behold, Jeremy's decision was the correct one. We were blessed with tremendous weather that day, and our willingness to admit our mistakes, learn from them and try new things led visitors back to McCloud Nature Park for the event in numbers that no one could remember ever matching in prior years.
Feedback from the Experts is Crucial
Blog posts No. 198 and No. 199 are great examples of the importance of feedback from the experts: the people who live here in Hendricks County and who spend the most time here.
The overall objective of Visit Hendricks County is to highlight all of the great things that we have to offer so that visitors want to come see this little slice of heaven that we call home. My fellow bloggers and I can't be everywhere all of the time, though, and our interests and tastes are unique to us as individuals.
This is why we actively seek out feedback about Hendricks County through our Facebook page, the comments section on each blog post, and any other way that you feel comfortable contacting us.
Blog post No. 198 about the best places to find sweets in Hendricks County was aided tremendously by suggestions through our Facebook page. Blog post No. 199 about the top 10 places to find outdoor public art in Hendricks County was a result of someone contacting me directly with the idea. We have a blog post scheduled for later this month about a restaurant that was suggested to us by a reader.
We listen, and we value your input, so keep it coming!
I send my heartfelt thanks to everyone for reading any or all of my 200 Visit Hendricks County blog posts over the past five years. I look forward to many more years and posts ahead.