Who doesn't love a sandwich? Maybe someone, but I happen to love 'em. Served hot or cold, it's all delicious to me. I only recently learned there are a number of
ethnic restaurants
in
Hendricks County
. So what does that have to do with sandwiches, you ask?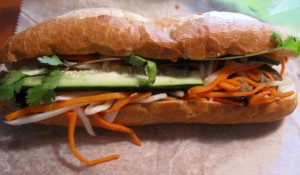 A couple of years ago, I first tried a bành mì sandwich, which is a Vietnamese version of a submarine sandwich, served on a crusty baguette. I was smitten. When I found out Pho 36, a Vietnamese restaurant in Avon, Indiana, served bành mì sandwiches, I had to go. Pho 36 is located at 9655 E. U.S. 36 in a small strip mall across from the Panda Express in
Avon
and just a short drive from I-465. One of the things I enjoy about Vietnamese food is that it's healthy (much of the food is grilled). It's also served up in large portions (perfect for sharing) with wallet-friendly prices. I walked in Pho 36 and was immediately greeted by one of the owners (Pho 36 is owned by a husband and wife). The restaurant is small and casual and very clean inside. I decided to order my sandwich to go because it's ideal carryout food. The menu has a selection of Vietnamese staples, like pho, a soup with rice noodles, as well as other rice dishes and vegetarian options. I ordered the grilled pork bành mì sandwich ($3.75- yep, that inexpensive), a crusty French baguette, lightly smeared with a sweetened mayo and filled with grilled pork, julienned carrots and radishes, cilantro, cucumber and jalapenos. The sandwich was wrapped tightly in wax paper (good for those traveling). The sandwich had the right balance of juiciness, crunch and spice.  Even better, I had enough to share. If you've never tried a bành mì sandwich or if you're looking for a new Vietnamese restaurant, stop in Pho 36.
Pho 36
9655 E. U.S, Highway 36, Avon, phone:  (317) 273-1830.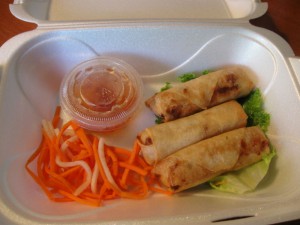 Recommended:
Vietnamese egg rolls ($3.49), served with a sweet and spicy sauce, bành mì sandwiches (with a variety of toppings, including grilled chicken, pork, beef, pâte).
Other information:
Casual restaurant, serves lunch and dinner, kid-friendly.  *No alcohol.