Are you a roller skater or maybe a former one?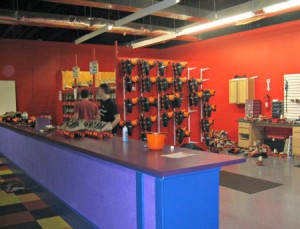 As a child, I attended a lot of roller-skating parties. I remember skating in a rink with flashing lights and lots of '80s music playing. I hadn't roller skated in years, but when I heard about 
Rock N Rollers
in
Avon, Indiana,
I had to check it out.
Rock N Rollers
is conveniently located just off U.S. 36 (behind Terry Lee Honda). It's cold out there, so if you're looking for indoor activities, this is it! If you have children, grandchildren or nieces and nephews, Rock N Rollers is a great place to take them. If you're visiting Hendricks County for the weekend and are looking for a place to go with the kids for a few hours, this is the place. In fact, you'll find a few hotels located within a short distance of Rock N Rollers and with 
JR Funnigans Jump N Play
and 
Xtreme Lazer Tag
nearby, Avon really has some family-friendly entertainment for locals and visitors.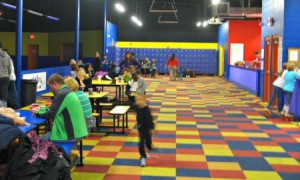 I recently visited Rock N Rollers on a Sunday afternoon and found a friendly, colorful and fun environment. The staff was happy to answer questions about types of skates to rent and my questions about booking a birthday party. There was a nice mix of adults and children skating and a few birthday/skating parties going on. There's a big screen for watching TV/videos, and I heard a good variety of music playing while everybody skated. You'll also find a snack bar and a handful of arcade games to play, when you're on a skating break.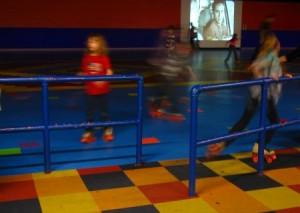 I was immediately taken back to those weekend afternoon skating parties I went to as a kid. I don't have kids, but my nieces are always looking for a fun weekend activity, and I can't wait until their next visit so I can take them to Rock N Rollers in Avon. I'm still a bit wobbly on skates, so maybe they can teach me a few skating moves… like skating backwards, which I never mastered. There's still time, right? If you're looking for an inexpensive way to enjoy an afternoon in Hendricks County, you've got to check out Rock N Rollers.
Mark these upcoming dates on your calendar:
Friday, January 18th: All Night Skating/Lock In from midnight until 7:00 a.m. ($20, includes admission, regular skates and 2 medium drinks, prizes and games)
Monday, January 21st: Martin Luther King, Jr. Day, skating from 1-4 p.m.
Before you go:
If you own skates, you can bring your own. Otherwise, regular skates are $3, speed skates are $4 and inline skates $5 (does not include admission, which starts at $4 depending on date and time).
Celebrating a birthday or event?
Rock N Rollers offers inexpensive party deals. Call for more information and to book an afternoon skating party.
Find it:
Rock N Rollers, 241 Casco Drive, Avon (located behind Terry Lee Honda.) Phone:
(317) 272-0873
. Check the
website
for hours, admission prices, party planning and other information.
Need a bite to eat after skating?
You'll find a variety of restaurants in
Avon.
For a list of
Hendricks County
dining options by clicking
here
.