Tucked away off the beaten path in
Brownsburg, Indiana
, is a hidden treasure called
Wilbur's Lincolnwood Toy Store
. I'm a big kid at heart (or "childish," as my wife occasionally calls me), and I love keeping my retail money within
Hendricks County
, so when the opportunity arose to check out a locally-owned toy store I had never heard of, I jumped at it.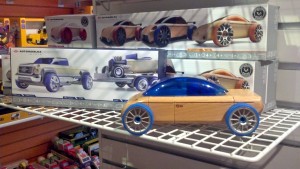 Before I went to the store, I learned that the owner of Lincolnwood Toy Store is Wilbur Tague -- thus, the "Wilbur's" in the store title. But I wondered where =the "Lincolnwood" part came from? When my 6-year-old daughter and I arrived at the store, however, that mystery was immediately solved. Tague is a dead ringer for Abraham Lincoln. In fact, as I chatted with him, I learned that he portrays the 16th president on a regular basis at a wide range of events. I learned that he's a professional photographer and the man behind the lens of
Wilbur Tague Photography
.
Wilbur's Toy Story
Most importantly, I learned that he loves children.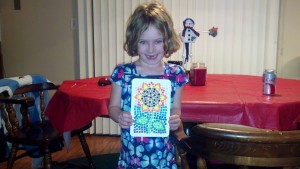 This isn't a man who just loves his own children and grandchildren. This is a man who loves
all
children. This is a man with a master's degree in teaching and was an elementary school teacher for five years. This is a man whose photography business was built around photographing children, families and high school seniors. This is a man who served as a high school sponsor through his church for 21 years and who has traveled all over the globe -- Mexico, Kenya, India, Thailand, Honduras, El Salvador, Paraguay -- to work with underprivileged children at a variety of schools and orphanages. He even helped build a library for the Ayora Indian tribe in Paraguay, smack dab in the middle of a jaguar-infested jungle. "It's always been about the children," Tague told me. That passion for the youth of our world made his choice to open his Lincolnwood Toy Store an obvious one, and it's no surprise, then, to learn that the store is filled with toys that are not only fun but that double as educational and developmental tools. The store celebrates its fourth Christmas this year, and it's a gold mine for Christmas shoppers.
Not Your Typical Toy Store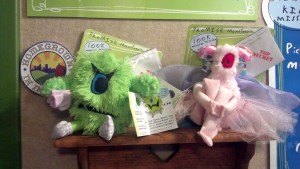 Tague carefully selects toys from all over the world that are well-constructed, entertaining and meaningful. One of my favorite toys was created in
Avon, Indiana
, and is produced in Indianapolis. They're called
Promise Monsters
. Promise Monsters are cute little fuzzy things that are based on the drawings of children and designed to spread kindness throughout the world. If you're interested in a unique, adorable, worthwhile gift for the child in your life, run up to Wilbur's Lincolnwood Toy Store and ask Tague about Promise Monsters. In fact, you can ask Tague about any toy in the entire place, and he'll give you in-depth instruction and background on it. He's much more than just a merchant trying to push as much merchandise out the door as he can. His lifelong passion for children shines through the products he offers and his knowledge of those products. I just can't express enough how refreshing this experience was compared to going into those big-box retailers, and as an added bonus is it is one of 12 locations on this year's
Cookie Recipe Trail
. More on that in a moment. Wilbur's Lincolnwood Toy Store got a resounding vote of approval from my daughter, too, who while I talked with Tague bounced past us several times on a big bouncy ball. I heard her playing with all sorts of toys, and Tague later showed her how to master the Pogo Jumper and the Spooner Board, too. As you can see in the video below, he was a good teacher, and she was a quick study. [youtube]http://www.youtube.com/watch?v=qCiz5BC5_j0&list=UU8x_r855M4mdwKchMOG5J1w&index=1[/youtube]   This Christmas, make a point to check out Wilbur's Lincolnwood Toy Store at 285 W. Main St., Brownsburg. You'll come home with some fantastic presents for the kids in your life.
Cookie Recipe Trail
While you're there, make sure to pick up the exclusive cookie recipe submitted by Wilbur that you can only get along the Cookie Recipe Trail by scanning a QR code with your smartphone or simply gaining access to a special web address to download the recipe at home. Also, make sure to visit all 12 stops along the trail. You can learn more about the Cookie Recipe Trail by clicking
here
. During the holiday season, Wilbur's Lincolnwood Toy Store is open seven days a week:  9:30 a.m. to 6 p.m. through the week, 9:30 a.m. to 4 p.m. on Saturdays, and noon to 4 p.m. on Sundays.