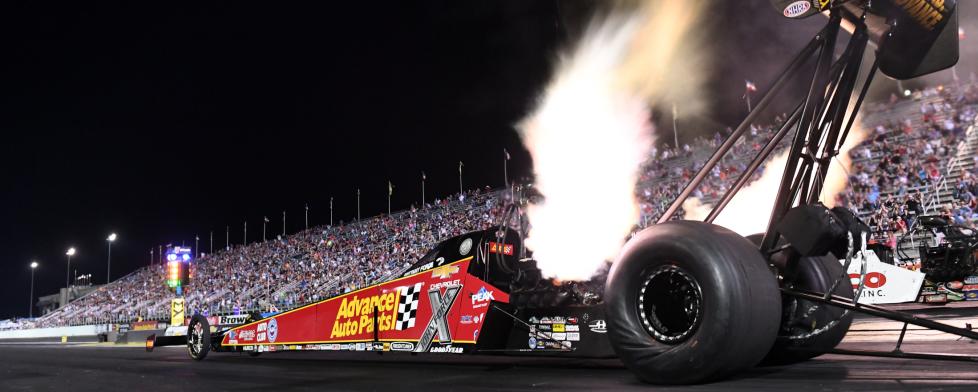 To say 2020 has been a rough year would be an understatement. I almost didn't want to jinx it by writing this story, but as Indiana opens back up, I wanted to be optimistic that late summer and fall events will occur.
So, I've put together this list of the top upcoming events at Lucas Oil Raceway for the rest of 2020. There are many more events scheduled that I will not list here. Click the button below for the track's full schedule but remember all these events and their dates are subject to change as this year progresses.
ARCA Calypso Lemonade 200
July 3
This 200-lap, 137-mile ARCA event will kick off the track's July schedule. The event includes qualifying starting at 5 p.m. on Lucas Oil Raceway's oval, followed by a 30-lap sprint car race leading up to the 200-lap feature event scheduled to begin at 8 p.m.
Track officials will limit ticket sales to 50 percent capacity.
New NHRA Events
For the first time ever, Lucas Oil Raceway will host more than just the NHRA's signature Denso Spark Plugs U.S. Nationals event.
Because of the pandemic that caused the NHRA to temporarily shut down its season in March, organizers chose Lucas Oil Raceway to re-launch their 2020 season with their first two return events on back-to-back weekends in July and later added a third event when two August events in other states were postponed because of the pandemic.
I detail all three events below, but you can also click here for more information on all NHRA events or to see answers to frequently asked questions about the track.
E3 Spark Plugs NHRA Nationals
July 11-12
This event will include all four Mello Yello Drag Racing Series categories that everyone has come to know from U.S. Nationals – Top Fuel, Funny Car, Pro Stock and Pro Stock Motorcycle. It will also include the JEGS Super Quick Series and the North Central Division National Open event for Oakley Motorsports Top Dragster and Oakley Motorsports Top Sportsman.
Lucas Oil NHRA Summer Nationals
July 18-19
Naming rights for this event still haven't been announced. But the event itself will just include Top Fuel and Funny Car from the Mello Yello Drag Racing Series as well as E3 Spark Plugs Pro Mod Series, Mickey Thompson Tires Top Fuel Harley Series, SAMTech.edu NHRA Factory Stock Showdown, Summit Racing Series E.T. Brackets and Summit Jr. Drag Racing League.
Dodge NHRA Indy Nationals presented by Pennzoil
August 6-9
After being forced to postpone early August events in both Denver and Brainard, Minn., because of restrictions in each state, the NHRA announced a new event at Lucas Oil Raceway in August. The Dodge NHRA Indy Nationals presented by Pennzoil will feature professional classes including Top Fuel, Funny Car, Pro Stock and Pro Stock Motorcycle.
The event also will feature sportsman racing including E3 Spark Plugs Pro Mod Drag Racing Series Presented by J&A Service and the North Central Division NHRA Lucas Oil Drag Racing Series as well as the exhibition Mountain Motor Pro Stock class.
Unlike the two July events, anyone can purchase tickets for this weekend of racing but limited quantities will be available.
Qualifying for the new Indy event will air nationally on Fox Sports 1 and final eliminations will air on FOX.
Fans in attendance for all three events must wear face coverings and will be submitted to a temperature check before entering the gates. The two July events will only allow limited spectators with tickets not available to the general public. The invite-only tickets will be offered to just NHRA Members and U.S. Nationals ticket holders.
You can purchase U.S. Nationals tickets by using this discount code.
After purchasing U.S. Nationals tickets, you should get a link to buy the tickets for these two July events. IIf you've already purchased your Nationals tickets, are an NHRA member or have issues ordering tickets, call (800) 884-6472.
All events also will be nationally televised on FOX.
Night Before the 500 & Dave Steele Carb Night Classic
Aug. 21-22
This annual USAC event will include two full days of oval racing providing a great kickoff to this year's Indy 500 weekend, which was rescheduled because of the pandemic.
Exact schedule details for the Carb Night Classic event on Aug. 21 have not been announced. However, the national Night Before the 500 on Aug. 22 will culminate a busy weekend and include a 30-lap USAC Midget feature race and a 50-lap USAC Sprint Car feature race under the lights.
Ticket packages for each individual event as well as combo packages for both events are available.
Denso Spark Plugs NHRA U.S. Nationals
Sept. 3-7
The signature event on the NHRA circuit also known as the Big Go will return Labor Day Weekend but with a condensed schedule this year, starting one day later than normal and ending one day earlier.
U.S. Nationals is the one drag racing event that all the professionals on the Mello Yello Drag Racing Series mark on their calendars and want to have on their resumes. Simply put, it is the Super Bowl of drag racing and one that should be on every race fans' bucket list.
We even have discounted tickets that you can purchase right here.
Slamology
Sept. 12-13
Editor's Note: This event has been postponed to June 2021.
Traditionally held early summer but moved to September because of the pandemic, this automotive and music festival takes over Lucas Oil Raceway for two straight days attracting auto enthusiasts from all over the country to show off their cars.
Activities include an auto limbo contest, a hydraulics demonstration, a car stereo contest and so much more.
Tickets are not offered in advance. Spectators can purchase one-day tickets for $10 or a two-day pass for $15 at the gate.
NMCA World Street Nationals
Sept. 24-27
This American muscle car event features heads-up drag racing, huge car show, manufacturer's midway, burnout contest and more.
Kids 12 and under are free all weekend. Ticket packages include for one day or various multi-day options.
Rusty Wallace Racing Experience
Oct. 3-4
The only stop at Lucas Oil Raceway in 2020 will occur in October. Choose from a ride-a-long or various driving experiences on the paved oval.