It's May in Central Indiana, and that means it's time for some racing! If you're like me and can't wait for the Indianapolis 500 in a couple weeks,
Hendricks County
has a way to satisfy your need for speed with the
USAC
Hall of Fame Classic on Saturday, May 18 at
Lucas Oil Raceway
in
Brownsburg, Indiana
.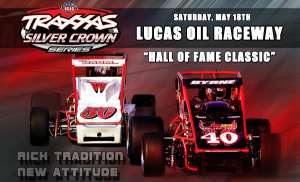 The 2013 Traxxas USAC Silver Crown Championship Series opens with the Hall of Fame Classic after
inclement weather cancelled
what was to be their opening event last month in Terre Haute, Indiana. This, then, will be the first time
any
race fans have had a chance to see the Silver Crown non-winged sprint cars fly around a track this year! The winner of last year's event, Bobby Santos, is
expected to return
 to defend his title, with plenty of other drivers like Bobby East, Brian Tyler, Tracy Hines, Kody Swanson and Russ Gamester looking to take the checkered flag in front of Santos in the 100-lap main event.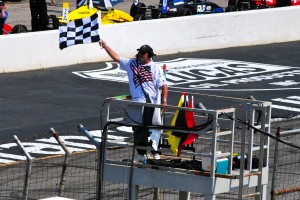 Non-winged sprint cars are my favorite type of racing, so this event is one of my
six "must-see" events at Lucas Oil Raceway
this year. These cars can exceed 140 mph in a race full of bumping and passing and changing track position, all of which will take place on a .686-mile paved oval. It's white-knuckled excitement from the green flag to the checkered flag! As an added bonus, several pillars of the USAC community will be inducted into the USAC Hall of Fame during this event. Living inductees include Bobby and Al Unser, Johnny Rutherford, Jack Hewitt, Tom Bigelow, Pancho Carter, Earl Baltes, A.J. Watson and Don White. Tony Bettenhausen, Henry Banks and Bob Wilke will also be posthumously honored. Joining the USAC drivers at this event will be the
Top Speed Modifieds
with a sanctioned race of their own in addition to that of the sprint cars, doubling the racing bang for your buck.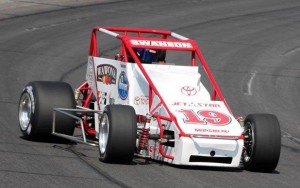 The gates at Lucas Oil Raceway
open at 5 p.m.
on May 18 so that fans can watch the Top Speed Modifieds practice. The Silver Crown cars will rumble out onto the track for practice at 6 p.m., followed by qualifications at 7 p.m. The green flag is scheduled to drop on the 50-lap Top Speed Modified feature race at 7:45 p.m., and then the 100-lap Traxxas Silver Crown feature gets underway at 9:15 p.m. Tickets can be purchased at the gate and are $20 per adult and $5 per child. Adult tickets double as pit passes, too, allowing fans the fun experience of hanging around with drivers, mechanics, and those big beasts of sprint cars. Many drivers sell T-shirts and other driver-specific merchandise out of their trailers and can often be talked into giving an autograph, too! So bring the whole family out to Lucas Oil Raceway on Saturday, May 18, and enjoy a family-friendly night of USAC racing at the Hall of Fame Classic!