Editor's Note: This post previews a previous year's event. To get more information about the 2013 Maple Sirup Days, click here.
I almost hate to admit it, but I was one of those people who never realized most maple syrups you buy in a store aren't 100 percent natural. Come on...I know I'm not alone!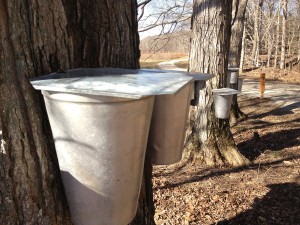 It actually took a little education during last year's first
Maple Syrup Days
at
McCloud Nature Park
in North Salem, Ind., to teach me and so many others that and so much more. Well, if the buckets hanging from the maple trees at McCloud are any indication, that fun, interactive experience is just around the corner again. Held over two weekends, the park will host Maple Syrup Days — March 3-4 and 10-11, 2012 — in
Hendricks County
at McCloud Nature Park, 8518 N. Hughes Road. The popular
Maple Syrup Days Pancake Breakfast Fundraiser
also returns with hourly spots available from 8 a.m. to 3 p.m. March 3 and 10 a.m. to 3 p.m. March 4. Reservations are required by calling the park office, (317) 718-6188. A freewill offering will be requested, and yes, the star of that show will be McCloud's 100 percent natural maple syrup. My colleague, Sarah McMillen, and I visited McCloud this week to meet with Rick Martin, a volunteer who has headed up this program the past two years. We even shot some video of Rick showing us some of the techniques including teaching Sarah how to tap a tree. [youtube]http://www.youtube.com/watch?v=t9YcGKLRgSE&list=UU8x_r855M4mdwKchMOG5J1w&index=17[/youtube] But before I describe that experience, let me just say that simply making the trip out to McCloud was so refreshing as we escaped the hustle and bustle. Rick couldn't have been more accommodating and engaging. This man really knows his stuff. He and other Hendricks County Park volunteers and staff will provide 30- to 45-minute presentations for visitors during Maple Syrup Days. The free event is particularly wonderful for families as participants go on a journey through the history and techniques used to make this sweet treat.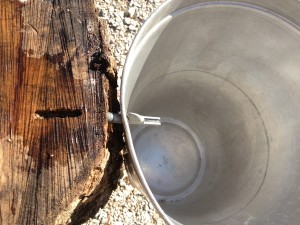 Rick showed us one of the demonstrations this week. Using the cross section of a log and a bottle of water, he revealed how the tapping process works including how to properly drill a hole and insert a spile, the device used to drain the sugar water into a bucket. For those who may have attended last year, a few new touches have been added including a demonstration of modern sugar water collection that includes connecting multiple trees to one large container using tubing and gravity. Rick also has a few surprises planned. The real interesting part for me is how long people have been making maple syrup and how it has been passed from generation to generation. It actually predates early American settlers who learned the technique from the American Indians. Rick told me he gets goose bumps when he thinks about being a part of passing this age-old practice on to the next generation. "I want to give back, so that is why I volunteer," he said. "If I can pass it along, that is what I want to do."