It's been said that breakfast is the most important meal of the day, so it's big news when one of the most iconic restaurants in Hendricks County announces that it's now open for breakfast. When I saw the big yellow sign on the side of the famous Mayberry Cafe announcing breakfast hours, I had to go check it out.
Mayberry Cafe, located on the historic Hendricks County Courthouse Square in Danville, is famous for its delicious home cooking and, of course, its Andy Griffith Show theme. It's also the focal point of the annual Mayberry in the Midwest festival.
Soon enough, it will be famous for its breakfast.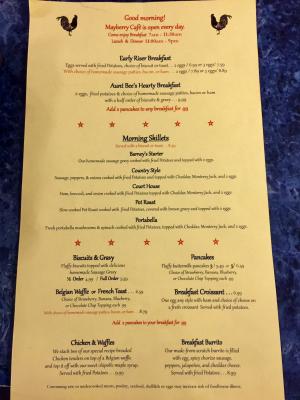 Now open daily at 7 a.m., Mayberry Cafe serves breakfast until 11:30 a.m. From 11 a.m. to 9 p.m. daily, it offers its bountiful lunch and dinner menu.
If you never been to the Mayberry Cafe and don't know the true essence of what makes it a destination restaurant, you need to check out this story.
Early Riser Experience
So, I stopped in to try out the new breakfast menu, and I opted for the Early Riser Breakfast with some homemade sausage patties. I ordered my two eggs scrambled to go with my fried potatoes and English muffin. I noticed that I could add two pancakes to any breakfast for just 99 cents, so I figured a couple little pancakes would round my breakfast out nicely.
While I waited for my breakfast to be prepared, I perused the menu to see what else was offered. They have Aunt Bee's Hearty Breakfast, which is the Early Riser Breakfast plus a half-order of biscuits and gravy.
The menu includes five different morning skillets, plus the traditional offerings of biscuits & gravy, Belgian waffles, French toast, pancakes, croissants, chicken & waffles and breakfast burritos. All of it looked really good, and I made note that on the weekends, they offer an all-you-can-eat breakfast bar from 7 a.m. to 12:30 p.m., so that's probably the best way to try a little bit of everything.
It didn't take long for my food to arrive, and as my waiter set my plate down in front of me, I couldn't help but notice the massive pile of fried potatoes. I got a ton of them! Still admiring my perfectly-cooked scrambled eggs and salivating over the homemade sausage patties, my waiter then delivered my plate of two pancakes.
They. Were. Monsters.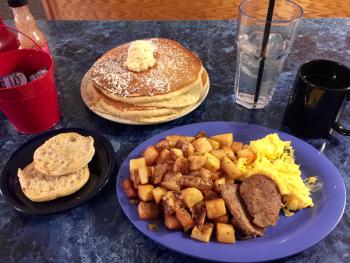 They were fluffy and golden and huge, with a big hunk of butter on top. They left absolutely no room around the edge of the plate for anything because the pancakes took up the entire plate.
I looked at my waiter with my mouth hanging open in disbelief, and he just shrugged his shoulders and said, "Hey, we don't mess around with our pancakes around here."
I guess not!
The Food
The eggs were great, the fried potatoes were nice and crunchy on the outside without being overcooked on the inside, and I really enjoyed how the homemade sausage patties weren't nine parts grease and one part pork. They tasted great, they weren't dry, and they didn't instantaneously clog my arteries and stop my heart.
Then I tried tackling the pancakes as best as I could without getting syrup all over the table. I couldn't come anywhere close to finishing them, but not because of the way they tasted. They were delicious. But have I mentioned how gigantic they were?? I simply ran out of room in my big belly, and that's not easy to accomplish.
All in all, I thoroughly enjoyed my breakfast at Mayberry Cafe, complete with their usual friendly and attentive staff. Stop in and try it for yourself!
And if you can make it all the way through an Early Riser Breakfast with sausage patties and a side of pancakes, I'll be impressed.
Mayberry Cafe
(317) 745-4067
Open daily from 7 a.m. to 9 p.m.
Breakfast served daily from 7 to 11:30 a.m.
All-You-Can-Eat Breakfast Bar on weekends from 7 a.m. to 12:30 p.m.
Major credit cards accepted