Growing up, I was always fascinated by soap box racing. There was something cool about the kids who built – and raced – those cars. For me and my friends, the closest any of us ever came to racing downhill like that were the times when we would ride our bikes over to a local park that had one of those tracks, and we would stage our own races. I had a black and orange 'Dragster' bike with a banana seat, and I sure had a good time acting as though I was one of those guys in the Soap Box Derby.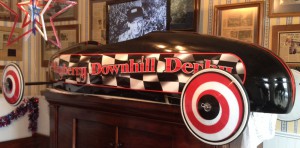 If this kind of racing sounds like fun, you'll want to mark May 17 & 18 on your calendar and plan on entering the first-ever
Mayberry Downhill Derby
during the
Mayberry in the Midwest
festival at Ellis Park, 600 E. Main St., Danville. The derby is a gravity-powered downhill race for ages 8 and older – including adults – and is one of the featured activities during the inaugural Mayberry in the Midwest. The festival is a fun-filled, two-day event in Danville to pay homage to the fictional town of Mayberry, as portrayed in
The Andy Griffith Show
. The entry fee is just $25 for the Mayberry Downhill Derby, and there are two categories with two age divisions in each category (Ages 8-16 make up one division and ages 17 and up the other):
Just for Fun division -- Allows anyone to enter and with a few exceptions that are listed in the official rules, anything goes in terms of the style and design of the car.
Competitive division -- More for the true Soap Box Derby enthusiast with strict guidelines for the race car.
Whether you're coming from out of town or you live in or near Hendricks County, teams entered into both divisions will be given time to test their car on the track and have it go through an inspection on Saturday leading up to race day on Sunday. The deadline for entries is May 9. Race Director Will Lacey is really excited about the event and says, so far, they've received close to two dozen entries from both families and businesses planning to roll a car to the starting line. Participants can even enter a single car and race it in two different divisions. As part of the fun, Lacey wants everyone to be safe, too, and says drivers will be required to wear proper racing attire, including eye protection, a helmet, long-sleeved shirt, full-length pants, closed-finger gloves and closed-toe shoes.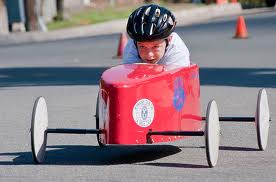 Among the more interesting of those entering the Downhill Derby is Hackleman Auto Collision Repair. J.R. Hackleman owns and operates auto shops in Avon and Danville. After hearing about the event from some of the folks at the Downtown Danville Partnership, Hackleman said he thought it would be fun for his guys who professionally repair cars to design and race a car that hasn't yet been wrecked. The shop is going to have two entries – one from each location – and he says they're in the "top secret" process of finishing the cars and that neither shop has seen the other's entry. The way it's all been set up, you'll think you're at Lucas Oil Raceway or the Indianapolis Motor Speedway. Teams are allowed to have a pit crew, there's a mandatory driver's meeting on Sunday and there's even talk of a glass of milk and a wreath awaiting those who reach the Winner's Circle.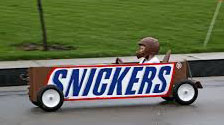 There will also be awards handed out for such things as creativity in designing a car. What's more, the excitement on the track won't be limited to the drivers. For just $5, people ages 8 and older can climb into a two-seater downhill derby car and experience the thrill of speeding down the track. The rides will be available from 4-8 p.m., May 17 and 10 a.m.-noon May 18. Whether you're a kid who likes to go fast, or an older guy like me, who wants to revisit that trip down the hill (this time…with a helmet), make sure to enter the derby. Or, just come on out to Ellis Park, pay your $5 and see what it's like to be a backseat driver. Either way, it's sure to be fun and if you win, a few years from now, you may be known as the Ray Harroun of the Mayberry Downhill Derby.