Editor's Note: The Mayberry in the Midwest Festival will not occur in the Spring of 2021.
The Mayberry in the Midwest Festival, returns to Danville, Indiana, bringing wild characters, loads of laughter, music, food and family fun to our own little slice of Mayberry here in Central Indiana.
Here's an insider guide providing everything you need to know to make the most of your visit to this signature event:
Family Fun
I can't possibly do justice to all of the family-friendly activities and fun that will take place throughout the weekend. You're just going to have to come to Mayberry in the Midwest and experience it for yourself.
The signature parade through town that includes so many surprises from the show begins at 11 a.m. Saturday. The annual Squad Car Nationals, which is a ton of fun to watch, takes off at 3 p.m. Saturday at the Hendricks County Government Center.
On the Courthouse Square, Opie's World play area and Tractor Town will be open both days, plus you can play cornhole and other games. There's even an Opie Look-A-Like contest!
The Hendricks County Historical Museum will be open on both days with various demonstrations that will keep families entertained. You can also explore the old Hendricks County Jail while you're there.
For those who enjoy shopping, the festival will have plenty of vendor booths both days. See if you can find that special item to purchase that makes your memorable weekend complete.
Tribute Artists
It wouldn't be a festival based on The Andy Griffith Show without the men and women who come from across the U.S. to portray characters from the show. These outstanding tribute artists do uncanny impressions of Barney Fife, Aunt Bee, Ernest T. Bass, Gomer, Otis, Floyd and other favorite characters from the show.
The tribute artists mingle with the crowd and are also involved in several activities throughout the weekend, providing plenty of laughs and photo opportunities -- plus their own Tribute Artist Show from noon to 1 p.m. on both Saturday and Sunday.
Would you like to enjoy a delicious dinner with the tribute artists, as well as Maggie Peterson (Charlene Darling), Dixie Griffith (Andy Griffith's daughter), Ronnie Schell (Duke Slater from Gomer Pyle, U.S.M.C.), George Lindsey, Jr. (son of George Lindsey, who played Goober) and the tribute artists?
You can meet all of these folks, get autographs and share a down-home meal catered by -- of course -- the Mayberry Cafe on Friday, May 17 at 6 p.m. at the Hendricks County 4-H Fairgrounds & Conference Complex in Danville by clicking here to purchase your tickets for just $25 a piece.
Live Entertainment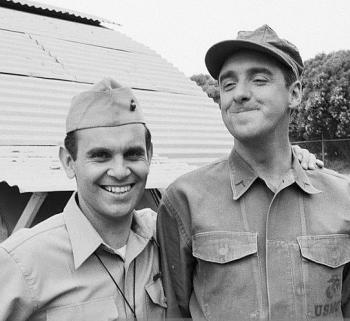 Not only does hilarity ooze out of the tribute artists throughout the weekend of Mayberry in the Midwest, Ronnie Schell -- who was on a couple of episodes of The Andy Griffith Show before starring with Jim Nabors on Gomer Pyle, U.S.M.C. and The Jim Nabors Variety Hour -- is performing A Tribute to Comedy Legends including Andy Griffith, Don Rickles, Jonathon Winters, Phyllis Diller, Joan Rivers and a host of other Hollywood stars on Saturday, May 18, at 2 p.m. at the Crawley Business Center in Danville.
He has worked with them all, and many were some of his fondest friends.
Click here to purchase your tickets for just $10 each.
Music also has become a central part of the live entertainment you can enjoy at Mayberry in the Midwest. Specifically, bluegrass has become the focal point of all of the free musical performances that will take place on the stage throughout the Mayberry in the Midwest weekend.
Enjoy the toe-tapping talents of The Treblemakers, Blue Mafia Bluegrass Band, Birch Creek Bluegrass Band, Bluetown, Bluegrass Band, New Balance Bluegrass Band, Bahler's Golden Age Band and the Wildcat String Band at various times.
Then be sure to be at the stage on Saturday, May 18 at 7:30 p.m. for a free concert by this year's headliner, cutting-edge modern bluegrass musicians, The Grascals!
All musical performances and other entertainment on the Hendricks County Courthouse Square stage throughout the weekend remains free and family-friendly.
Food
Get your Saturday started at Mayberry in the Midwest with the Firemen's Pancake Breakfast, which will be held from 7 to 11 a.m. at the Danville Fire Station located at 77 N. Kentucky St. -- an easy walk from the Courthouse Square.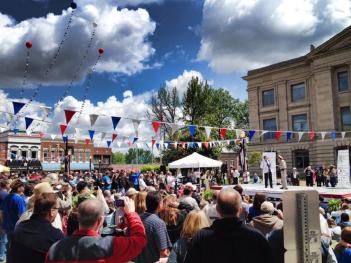 And we're not going to let you starve on Sunday morning, either. The Danville Christian Church, located just west of the Mayberry Cafe, will host a Biscuits & Gravy Breakfast from 7 to 10:30 a.m.
Food vendors will be on the Courthouse Square to fill your belly, and several locally-owned restaurants are on the square or a very short walk from the square.
You will not go hungry at Mayberry in the Midwest.
Free Fun
Aside from the Meet & Greet Dinner and the Ronnie Schell show described above, Mayberry in the Midwest remains free to attend and enjoy. Free parking abounds throughout Danville, and all the activities are centrally-located around the Hendricks County Courthouse Square or within a very short walk of the square.
So click here to see the entire schedule of events, and then make plans to bring the whole family to Danville May 17-19!
2019 Mayberry in the Midwest Festival
May 17-19, 2019
Danville, Indiana