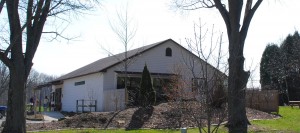 National Bird Day was Thursday, and for the first time, I took notice. I owe it all to McCloud Nature Park in
North Salem, Indiana
. Before my recent visit to this serene nature sanctuary nestled in the gently rolling hills of northwest
Hendricks County
, the only tweets that I paid attention to were on
Twitter
. That has changed. The park's nature center offers a bird-viewing area that augments nearly 6.5 miles of self-guided park trails. Through large glass panes, I saw several species of birds settle on precarious branches.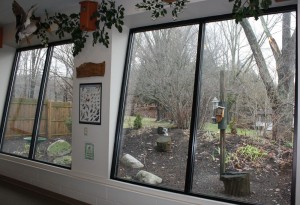 "Is that a black-capped chickadee?" my 12-year-old son asked. "Yes, it is, my little chickadee," I said assuredly, while aping W.C. Fields. How did I know? After all, I was just a five-minute rookie in the bird-watching business. The bird board made me look brilliant. On an adjoining wall, the large bird board lists 31 categories of birds found in the park for more than 100 species overall. Genius. Illustrations of common birds found in eastern North America didn't hurt, either. McCloud takes engagement a step further by allowing visitors to write their bird sighting of the day with dry erase markers. Proud of our finding, my son inscribed the chickadee observation. Previous sightings by other observers included hawks, eagles and egrets, which prompted a peaceful stroll outdoors as we soaked in the sights and sounds among the 232 acres. We tuned in to every chirp and cackle, focused to find birds large and small. We were at one with nature. Back indoors to warm up from winter's chill, we were educated by several interactive displays. My son especially liked the screen/headphone displays, which enable users to hear the sounds of amphibians, birds, mammals and insects while looking at colorful and vivid pictures of them. He also enjoyed the four smelling jars. Lift the lid of each jar and guess the aroma. Answers are at the front desk. I was captivated by the "communication specialists" displays, which describe how fireflies, birds and honeybees communicate. Besides attracting males, did you know that another reason fireflies flash their lights is to find one another on dark nights? Other highlights include stuffed fish, animals and deer heads (with interesting information listed below each) and a hand-painted mural along a wall that represents the timeline of the property.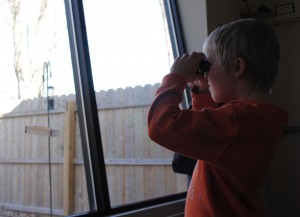 But mostly, this visit will be remembered as the day our bird-watching skills took flight.
Note:
There is even more to see and do, especially for the kids every Saturday. This month McCloud Nature Park's Saturday activities include a full-moon owl hike, children's winter tracking workshop, dinosaur day and terrarium workshop. For more details, visit the
Hendricks County Parks & Recreation website
. The park, 8518 Hughes Road, is open from dawn to dusk, and the Nature Center is open 10 a.m. to 5 p.m. Fridays and Saturdays and 1 to 5 p.m. Sundays in January and February.
Stay tuned later this month as I chronicle the outdoor amenities of McCloud Nature Park, which include overlooks, ravines, trails, pathways, glacial ridges, pavilions, a rippling creek and a majestic bridge.