There's a crispness to the air as summer loses its grip on
Hendricks County
. Believe it or not, autumn and Halloween are not far away. To get into the seasonal and holiday spirit, my daughters and I took a trip out to
McCloud Nature Park
, just outside of
North Salem
, Indiana, to check out the new prairie maze there.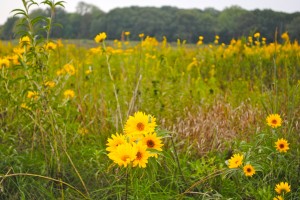 In each of the past three years, park employees have developed and mowed a new pattern into the 52-acre prairie adjacent to the Nature Center, and every year, we head out there to check it out. Last year was a pumpkin. Two years ago, we navigated a spider web. This year, McCloud's prairie maze is a bat. The prairie flora isn't as tall as it has been in previous years -- likely a result of this summer's drought -- but it's still a lot of fun. While past mazes have been cut into grass that rose above my head, this year's maze is through mid-torso-height grass and wildflowers. Most of the wildflowers are yellow right now, which makes for a scenic -- and somewhat disorienting -- sea of color. It's a different sensation than in previous years, but the grass is still high enough to make this anything but an easy challenge. Especially if you don't have a map.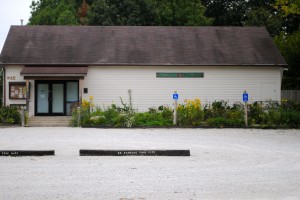 Oh, they have free maps of the maze in the Nature Center for everyone. Some egotistical male parental figures, however, are too prideful (I believe "pig-headed" was the word my wife used) to pick one up. "Ah, we'll be fine without one, kids," I scoffed with an indignant wave of my arm. "Your old man has an excellent sense of direction." And so I boldly led my 6-year-old and 5-year-old daughters into the bat maze, ready to show them how keenly I could navigate us to the center and back out again. Let's just say that it's a good thing that we brought bottles of water.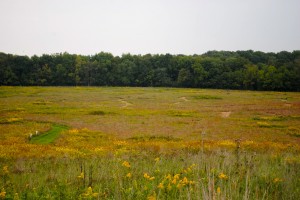 We enjoyed our walk -- for the first few hours, anyway -- and my daughters liked looking at and smelling all the flowers, as well as trying to guess which way to turn every few feet. It was peaceful and serene and we even saw a rabbit scurry across the path in front of us. Eventually, though, we got out -- without a map -- and my wife said it couldn't be done. Shows how much
she
knows. McCloud Nature Park is open from dawn to dusk daily, and going through the bat maze is free of charge. I do have some tips for future maze-goers:
Use a map. Not everyone has the commanding sense of direction that I do. You'll also find, if you have a map, that there are varying levels of difficulty to this maze for visitors of all ages.
Spray yourself and your loved ones with bug repellent before you enter.
Wear comfortable, closed shoes.
If you suffer from seasonal allergies, as I do, take your antihistamines before you leave home. That way, they'll be working by the time you're in the midst of all kinds of pollen.