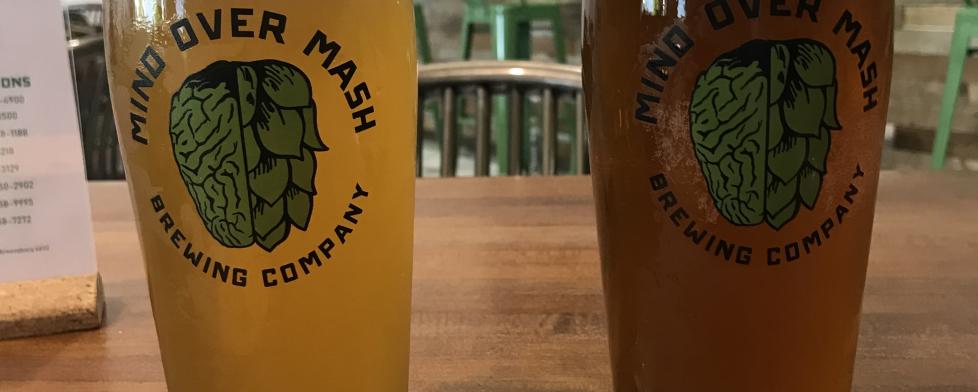 The husband and I checked out the new taproom at Mind Over Mash Brewing Company in Brownsburg the other night. It was a great mid-week break. I love seeing new local businesses open and expand, especially when they provide another opportunity to unwind and enjoy your company.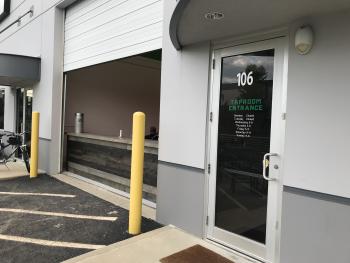 We didn't get over to the taproom until after 7 in the evening, but it was still rather warm out. They had the warehouse overhead door open, which lets in air and makes the taproom feel open.
The taproom is clean, airy and provides a laid-back atmosphere. We enjoyed the cool artwork of their logo, including graphics and handcrafted wood pieces. 
They provide plenty of seating including an area above the main level that overlooks the brewery. The whole brewery setup is in the warehouse and open for customers to see. It's very impressive and adds some unique character to the taproom setting.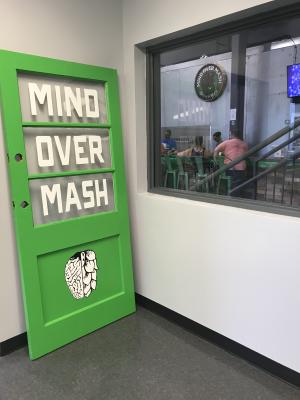 Mind Over Mash opened their taproom over Mother's Day weekend, and they told us business has remained steady ever since. I'm going to assume that the good brew and easy atmosphere is what brings folks in -- then once a customer, likely a regular.
While food is not served (currently) in the taproom, they allow and encourage outside food. Additionally, you'll find the phone numbers, websites and menus of local restaurants that deliver right to your table. We ordered from Panoony's Pizza and Wings. 
Within 20 minutes we had our food. It was delicious.  
There were about 15 other patrons when we visited. One group of guys had ordered a pizza and were chatting it up over a few pints.
Two couples enjoying dinner and a few brews sat at another table - one brought a pasta dish from home and the other brought a pan of brownies. Genius. I love these options.
You'll also find complimentary pretzels and water.
Let's talk about the brew. You have plenty of options here, too. They offer a selection of custom brews ranging from light ales to super dark, hoppy brews.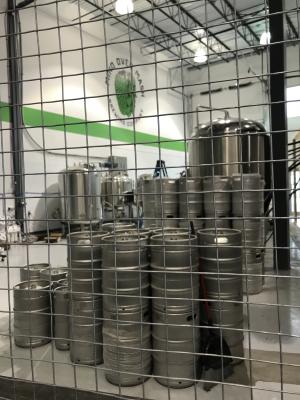 You can customize a flight of tasters or purchase a taster of a few brews you're struggling to choose between. While their coffee brew creation was tempting, I ordered a pint of their Lazy Saturday Blonde Ale, and it did not disappoint.
The hubs, who is not a big beer drinker, ordered a pint of the OSO Pale Ale. His was crisp with a noticeable citrus kick. 
Mind Over Mash also offers growlers. This, of course, requires that you stop in and find your favorite brew.
Invite some friends and stop in soon for good brew and a great atmosphere. Find more information - including their brew menu - here.
Mind Over Mash Brewing Company
Location: 486 Southpoint Circle, Brownsburg (on the East side of the John Force Racing Building).
Hours: 5-9 p.m. Wednesdays and Thursdays, 5-11 p.m. Fridays, 11 a.m.-11 p.m. Saturdays, 11 a.m.-6 p.m. Sundays and closed Mondays and Tuesdays.