One of the many great things about Hendricks County is the amount of high quality art that can be found throughout the county. During the next few weeks, visitors and residents in Hendricks County need to make plans to stop by
Artistic Designs Gallery
in Brownsburg, Indiana to see this year's Miniature Fine Art Show. It will remain on display through Aug. 24.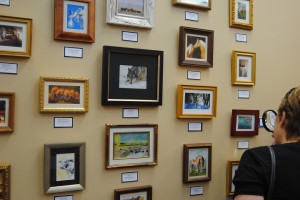 I attended the preview night for the juried exhibit and learned a lot about miniature art. Before I visited, I just expected to see paintings on a small canvas, but it is much more complex. To qualify for this show, the artist must use carefully refined techniques, reduced scale subjects and held-in-the-hand size formats. Here are what the jurors are looking for in each piece:
The subject matter is 1/6th the size of real life.
Exquisite detail that withstands magnification.
The work must demonstrate a mastery of composition.
I was amazed at the amount of detail that can be found in such small paintings. The gallery even has magnifying glasses for visitors, so that you can see even more of the fine details and brush strokes that go into each piece. These paintings are so small that even a speck of dust can throw off the work.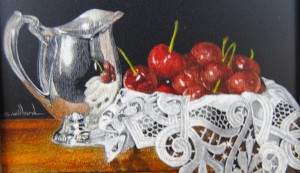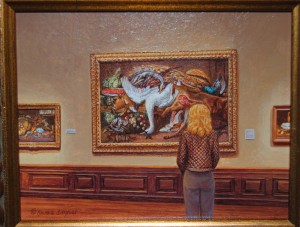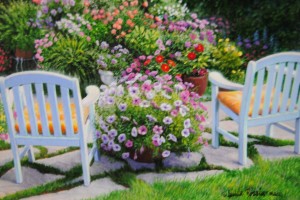 I talked with a couple of the guests at opening night that told me that visiting miniature art shows is addictive. I can see why. When I visit art exhibits, I love to study the work and find details that I didn't notice at first glance. I was amazed to find such details in miniature art. After my first walk through of the exhibit, I went back through and studied my favorite pieces and found small details that I didn't notice the first time. The Miniature Fine Art Show includes more than 80 works by 24 award-winning miniature artists from across the country.  If you see a piece you like, it can be yours. Each piece is available for purchase. Admission to the exhibit is free. So, stop by anytime and learn about miniature art. I've included pictures in this post, but trust me, you will need to see these in person to truly appreciate this artform.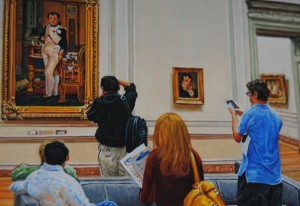 7th Annual Miniature Fine Art ShowWhere:
Artistic Designs Gallery
, 124 E. Northfield Drive, Suite K, Brownsburg, Indiana
When:
Now-August 24
Hours:
10 a.m.-7 p.m., Tuesdays & Thursdays, 10 a.m.-5 p.m., Wednesdays & Fridays and 10 a.m.-4 p.m. Saturdays. The Gallery is closed Sundays and Mondays.