What gained popularity at the court of King Henry VIII continues this month in
Hendricks County
: a celebration of miniature fine art.
Artistic Designs Gallery
in Brownsburg, Indiana, will host its sixth annual juried
Miniature Fine Art Show
beginning July 14. So what exactly separates miniature art from a small piece? I visited the gallery and talked with owner Laura Tesdahl to find out.
Exquisite detail, even under magnification
Artistic Designs Gallery's annual show actually plays a role in art history, because it helped incite discussion among the miniature art community about establishing standard guidelines for what constitutes "miniature art."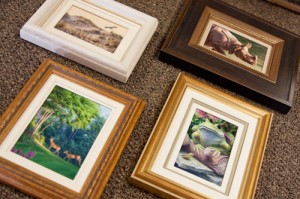 In the earlier years, requirements for acceptance into the Brownsburg show related most to the piece's size and less about the technique or subject matter. But the artists knew that key details differ between small-sized and truly miniature art. They founded the
Association of Miniature Artists
and established these guidelines for miniature art:
Minute in scale versus life-sized: Subject matter is generally 1/6th the scale of the actual.
Exquisitely detailed: Delicate and painstaking technique withstands magnification.
Small in format and size: 25 square inches or less, which will approximately fit in your hand.
High in quality: The work exemplifies Fine Art, demonstrating a mastery of composition, color, values, etc.
This year's show at Artistic Designs Gallery will still include artwork that is up to 80 square inches, but next year's exhibition will be split into two events: one for miniature art that conforms to the guidelines above, and one for small works of wildlife art.
Growing in popularity
The caliber of work and the quantity of entries in the show has grown every year, and Tesdahl expects this to be the best year yet. In a serendipitous turn of fate, a building fire in early 2011 actually helped to escalate the support of the show in the art community, leading to a record number of entries, including some from international artists.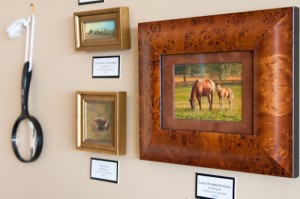 This year, two of the most celebrated miniaturists in the country,
Wes and Rachelle Siegrist
, will attend the July 13
th
invitation-only preview event. Several pieces from this husband-and-wife team are currently on display at Artistic Designs Gallery, and new pieces will be unveiled at the show on July 14.
A style for everyone
While paintings are the most often-seen forms of miniature art — including acrylic, oil, and watercolor — the miniature fine art show also accepts works of fired enamel and porcelain, drawing, printmaking, sculpture and mixed media. See something you love? Bring your wallet — all art in the show is available for purchase and would definitely make a great conversation piece for your wall. Admission is free for all visitors, and you can stop to see these tiny works of art any time through Aug. 25 during the gallery's
business hours
at 152 E. Northfield Drive in Brownsburg.