Creepy coffins, dancing skeletons and ghastly goblins. Grim reapers, toothy jack-o-lanterns and Cujo-inspired dogs. No, it's not Halloween. It's just another regular day of spooky fun at
Monster Mini Golf
in
Avon, Ind
. The monstrosity of it all is rather amazing and what better time to go than during the cold, dark days of winter.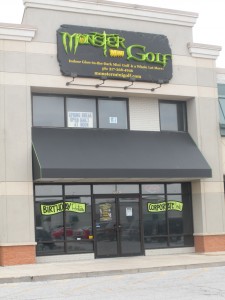 During my recent visit to this
Hendricks County attraction
, pint-sized kids to adults relished these not-too-scary-and-sometimes-friendly creatures that dominate the 18-hole indoor miniature golf course. Black light, colorful neon paint and illuminated golf balls created a cool glow-in-the-dark aura throughout the entire 10,000-square-foot building. What I liked best about the climate-controlled attraction was the age range that I heard squealing with delight. Grandparents played the course with their little grand-tykes. Kids aged in the single digits had a blast. Teens excitedly bounced from hole to hole. My 12-year-old offered the perfect one-word summary, "Beast." The monsters were more fascinating than frightening.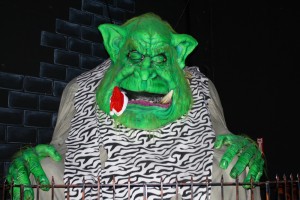 Take the giant, Shrek-like troll, who spent most of his time snoring. Over a 30-minute period, the 20-foot audio-animatronics ogre went through several spiels. He opened one eye and said, "What are you looking at? Beat it, shoo." Later, he commanded respect as he stood up, nearly hitting his head on the ceiling.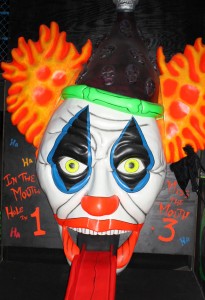 Tongue-wielding Glow-zo the Clown swallowed balls on the 18th hole, but my favorite creature was Fluffy the dog. At first glance, Fluffy appeared cute and cuddly. As I approached Fluffy, I tripped a motion sensor that turned the gentle canine into a full-blown, rabid nightmare. With thunderous barks, the mad black dog rushed toward me with fangs chomping at the bit. Fluffy hurled at me on hind legs, only to run into a Plexiglas shield. Whew, I was safe to tee off from the next green. Most of the holes at Monster Mini Golf featured around-the-bend, geometric designs, making them challenging enough for adults but navigable for children. All the while, an in-house DJ played "Weird Radio" (WIRD) songs that appealed to a wide age range. He gave out wacky prizes to those who came to his DJ machine with correct answers to randomly announced trivia questions. Fun met us at every turn. We didn't want this experience to end. After surviving 18 haunted holes, we ate popcorn and pizza before attacking the glow-in-the-dark, redemption-style arcade games. Next, we checked out the three party rooms, perfect for birthday or other celebrations. The dimly lit rooms featured furniture, tables, skeleton chandeliers and portraits on the wall that changed from humans to skeletons. Some birthday parties include a DJ Challenge, where the honoree receives a mummy wrap of redemption tickets. Birthday recipients also get their handprints imprinted on a special birthday wall. Monster Mini Golf is a 28-strong national chain, but local touches are evident, including glowing caricatures of native Hoosiers David Letterman and Jared the Subway Guy. The only other Indiana location is in Lafayette. Mark your calendars for Valentine's Day, when Monster Mini Golf offers a
special night for singles
, including a dinner buffet and "heartless" golfing.