I'm so happy to share one of my new favorite
Hendricks County
stores with you. It's called
Moody's Butcher Shop
, and it's located in
Avon, Indiana
. There aren't that many butcher shops around these days, so this quaint little shop proved to be quite a find as it provides a little nostalgia for both residents and visitors as well as farm-fresh meats and eggs.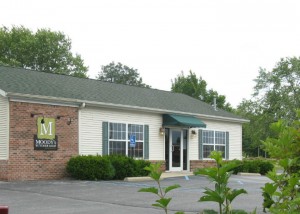 Moody's specializes in free-range chicken, eggs, beef, pork and lamb. Some of this food comes directly from Moody's farm, but they also believe in supporting and purchasing from local farmers as well. I don't know about you, but I like doing my part to help support local businesses when I can, and trying to eat food that is healthier and not pre-packaged. My parents owned a hamburger restaurant for several years and taught me the importance of using quality ingredients whenever possible. The better the food, the better the meal. So let's talk about Moody's Butcher Shop and what I like there. I recently purchased a filet for a birthday dinner. It was a large filet, and I planned to grill it but wasn't sure how I should go about it. I decided to ask the butcher's advice, and he happily offered some suggestions (wrap the filet in bacon, around the edges) and gave me a few temperature recommendations for a perfect "medium" cooked filet.  I followed his advice and the filet (which easily served two people, almost three) was one of the best I'd tasted in years, beating many steakhouse filets. It was outstanding because the filet was superior quality meat. Yes, the filet was more than I'd pay at a grocery store, but I was willing to spend a little more for an excellent product and fantastic service. So what else do I recommend? Try Moody's brats (it's grilling season, after all), breakfast sausage, bacon and hamburger. If you're visiting from out of town, check out the freezer section (where you can find all of the same stuff nicely packaged for your trip home).  Bring your cooler and pack up items to grill out at one of
Hendricks County's parks
.  Just don't forget to buy enough to take with you.
Moody's Butcher Shop
235 N. Ind. 267, Avon, Indiana (317) 272-4533. *Closed Sundays, check their web site for other locations.