A year ago,
Must See Racing
visited
Hendricks County
for the first time, and their event at
Lucas Oil Raceway
in
Brownsburg, Indiana
, was such a hit that they're back again this year for a  "Night of Speed."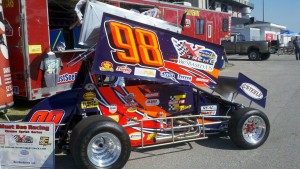 On Saturday, June 29, you will want to witness Must See Racing's Xtreme Sprints and Super Modifieds roar around the track. I was there last year, and it was amazing and definitely lived up to the title of Must See Racing. This year gates 
gates open at 4 p.m.
 for hot laps. Qualifying starts at 5:30 p.m., and then the racing starts at 7:15 p.m. with 8-lap heat races followed by 8-lap B Mains in each class. The Night of Speed is topped off by each class competing in a 30-lap main event.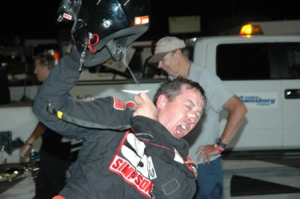 I wrote about
the inaugural Must See Racing event
last year when these winged sprint cars, dubbed the "
world's fastest short track cars
," hit speeds over 130 mph around the .686-mile paved track at Lucas Oil Raceway. Driver Brian Gerster out of Fishers, Indiana, set a new track record, completing a lap in a staggering 17.407 seconds (which translates to a tick under 142 mph), and then proceeded to win the featured event later that night. Just as it was heading into last year's event, the
Xtreme Sprints point standings
are very close as we approach "Night of Speed." Jo Jo Helberg is currently in first place, but Gerster is nipping at his heels, just 12 points behind. Right behind Gerster is a whole slew of drivers -- including Brian Olson from
Avon, Indiana
, -- who needs just a handful of points to move into first place themselves, making this race very important in the standings. Some of these guys -- including
Coatesville's
Mike Larrison in his No. 50:1 car -- have already been out to Lucas Oil Raceway this week, doing some testing. Here's a glimpse: [youtube]http://youtu.be/_NnrLe_BRMY[/youtube] Last year, Must See Racing brought some modifieds in to race in between the sprint car races. This year, they're raising the bar.
Super
Modifieds are coming to this year's event! What makes a modified "super," you may ask? Well, I had to do a little research myself because I am unfamiliar with these race cars.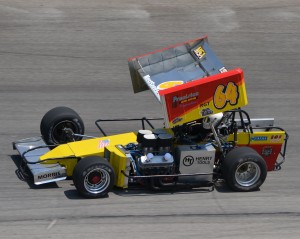 As it turns out, they're kind of a morph of traditional modifieds and sprint cars, with the engine out in the open on the left side of the car and a wing on top to provide the down force necessary to fly around the track. As with the Xtreme Sprints, the
points standings
in the Super Modifieds class are all knotted up among the top several drivers, so expect some hard racing at Lucas Oil Raceway. I'm definitely going to have to check these things out to see them for myself. Tickets to "Night of Speed" are $25 for adults ($20 for adults age 65 years and older) and free for kids 12 and under. Parking passes are $5 a piece. If you like getting down in the pits and close to the drivers and their cars, a pit pass is just $35. Don't miss out on Must See Racing!