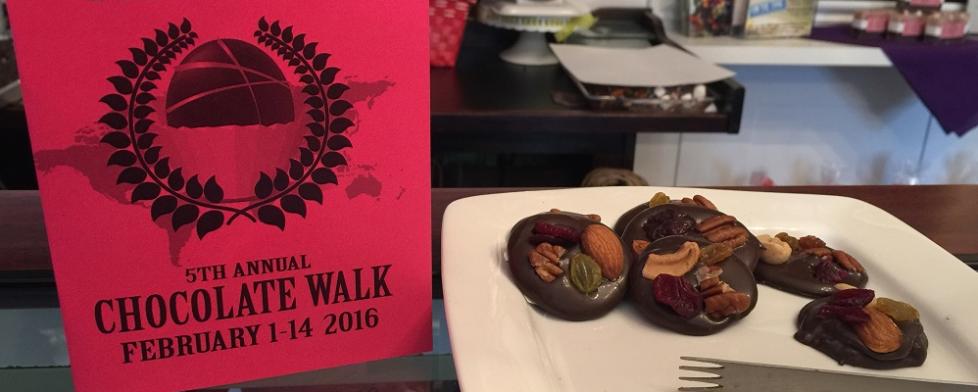 The 5th Annual Chocolate Walk in downtown Danville is underway and you don't want to miss your chance to stop by this year's participants to sample their "country's" FREE treat. 
I stopped by Confection Delights to pick up my "passport" and start the walk. For those unfamiliar with this event, you start by picking up a passport -- a paper guide that includes the names, business address, phone number and business hours of the "countries" (participating merchants).
Each of the 11 participating merchants will offer a FREE chocolate treat sample that goes along with the "country" they represent in the passport. When you stop in to enjoy the treat, get your passport stamped. Visit all the participants to fill your passport. Then, simply complete the entry box on your passport and leave it at any of the participating locations for a chance to win a prize.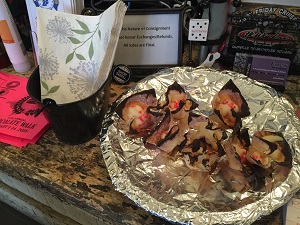 I'm reluctant to spoil the surprise of what treat you'll find offered at each of the participating locations, but I'll share a few to give you an idea about this unique event hosted by some really awesome local businesses.
The 11 participants in this year's Chocolate Walk are: The Beehive, Bread Basket Cafe & Bakery, Confection Delights, The Cake Show at Court House Grounds, Danville Public Library, D's Cleaners, Gallery on the Square, Jane's on the Square, Melissa Cain Art Studio, Mayberry Cafe and Seize the Night Designs.
I started my walk at Confection Delights, as I knew that owner, Pamela Powell-Warden, would be able to tell me everything I needed to know about the event. She organized the event and, well, she's kinda amazing with chocolate. Plus, serving as "Switzerland" in the passport, I thought it was a safe bet. The treat offered at Confection Delights was Swiss chocolate deliciousness. I also left with a bag of treats that I purchased for my family.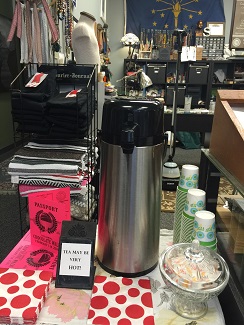 Next, I took the short trip to "England" -- a walk across the street -- to Seize the Night Designs for high tea. Owner, Sarah Stogsdill, was worried that the tea might be a little cold when I stopped in after 4 p.m., but her chocolate covered strawberry tea was perfect.
This event is a great opportunity to check out what's new or being offered at these participating locations. If there is something you're looking for specifically, but don't see out at Seize the Night, be sure to ask Sarah. She's always happy to help and appreciates customer feedback on what you'd like to see in the shop.
With my FREE yummy tea in hand and more stamps in my passport, I made my way to Jane's on the Square for a taste of Italy.
Owner Jane Bailey was getting new inventory on the racks when I stopped in for her Italian treat and another passport stamp.
Holy, cannoli! Her treats were almost too pretty to eat. Her yummy cannoli cups were almost as satisfying as the shopping I was able to get done in her unique, resale boutique.
I wouldn't want to spoil the whole tour for anyone, so I'll end with my trip to "Mexico" via The Beehive.
It was a little busy when I stopped in to try their amazing chocolate Mexican wedding cake, so I didn't get a chance to ask about all the ingredients used. But, I'm certain I could taste a hint of the delicious honey that is also used in my favorite drink - their HoneyBean latte.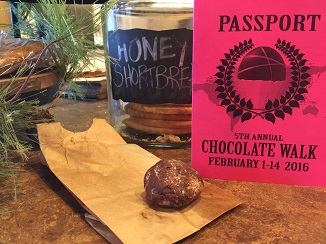 While staging and taking a photo, a woman in line whispered, "What are you doing?" I grabbed a passport and explained a little about the event. I learned that she lives in Avon, but loves the small-town feel of Danville and all the events our town and its businesses participate in.
The Chocolate Walk indeed is a great time for visitors to experience Danville's charm. So grab a few of your girlfriends and spend a day away by picking up passports to take this delicious trip now through Sunday, Feb. 14.  
To increase your chances to win a prize, take a photo at participating locations or a selfie on the walk and share on social media with #danvillechocolatewalk. Winners will be announced Feb. 17. 
You can get more information, see what has been shared and post your own experience on the Danville Chocolate Walk Facebook page. 
All those delicious treats from "around the world," and I still went home with several additional treats that I purchased along the tour. I think you'll discover a few new favorites during your travel on Danville's Chocolate Walk, too.