I have always loved horses. As a child, I always wanted one (I had no idea how much work one would be) and grew even fonder after covering the Kentucky Derby when I was a journalist in Louisville. But I must confess, I had never ridden a horse until a recent visit to
Natural Valley Ranch
in Brownsburg, Indiana. My 5-year-old daughter has ridden a pony at a zoo before and loved it, so she was excited to join me.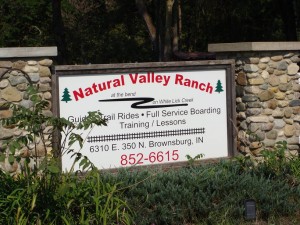 We arrived at
Natural Valley
about 30 minutes before our ride. We were greeted as soon as we stepped out of the car and were taken to the barn to get fitted for helmets. Since we had time before our ride, we were shown some of the horses, including a miniature horse. We were then given a horse to ride. I opted for a 30-minute ride, since we are inexperienced. We even have a 30-minute ride for up to four people to give away to one of our readers. I will have more information on that in a minute. My daughter set behind me in a buddy seat. We were the only ones on the trail, besides the two girls guiding us. They were really good about making sure my daughter was sitting properly and giving me instructions on riding. We had a horse in front of us and behind us. The girl behind us kept an eye out on my daughter to make sure she was safe. We even stopped a couple of times to readjust her in the saddle. The trail took us on an enjoyable ride through the woods and along White Lick Creek.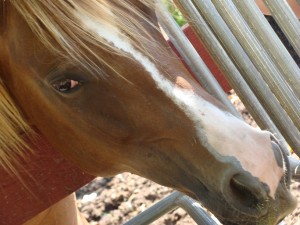 This
Hendricks County
horse farm is a great place to spend time with the family. Besides horse back riding,
Natural Valley
also hosts Family Fun Nights. The next one is  6-9 p.m. Sept. 8. If you can't make that one, you can take part in one from 5-8 p.m., Oct. 6 to benefit the B&O Trail and another one from 5-8 p.m., Oct. 27 (wear your costume for Halloween fun!). Family Nights are $35 per family(up to 6 people) and $5 for each additional person. The evenings include a bonfire (bring your own food and beverages), hay ride, petting zoo, pony rides and fishing (catch and release only with your own bait and tackle).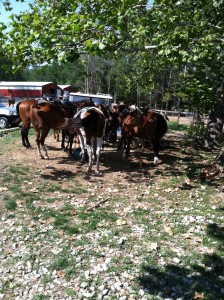 Natural Valley
is open every day, but closed most holidays. Horses are available for 30-, 60- and 90-minute guided trail rides by reservation only. Half-hour trail rides are available at 4 p.m. every Saturday. One-hour trail rides depart at 10 a.m., noon and 6 p.m. Monday-Friday; 10 a.m., noon, 2 p.m. and 4 p.m. on Saturdays and 2 p.m. and 4 p.m. on Sundays. 90-minute trail rides are available at 10 a.m. and 4 p.m. Saturdays. Other ride times may be available upon request. For reservations, call (317) 852-4815. For a chance to win a free 30-minute trail ride at Natural Valley Ranch for up to four people, simply submit your first and last name and tell us why you would like a free guided tour at Natural Valley Ranch in the comment section below by 5 p.m. Aug. 31. We will contact the winner next week. Good luck! Even if you don't win our giveaway, you need to check out this family-friendly Hendricks County attraction that is perfect for the fall and caters to any riding level.
Natural Valley Ranch
Location: 6310 E. County Road 350 North, Brownsburg.
Reservations: (317) 852-4815.
Rates: 30-minute trail rides — $15 per person; 60-minute trail rides — $30 per person; 90-minute trail rides — $40 per person. Group rates available for parties of 6 or more, discount rates do not apply to 30-minute trail rides.