So, one of the little perks of being an independent writer is that you can occasionally sneak out for a nice long lunch. And that's what I recently did on a rainy Friday afternoon. I went to the new restaurant in Brownsburg, Ind., -
A Stone's Throw
. I tried to make it all business as I settled into the restaurant located in downtown Brownsburg that was formerly the Cabana Room. But with the sort of rock music I like playing at a volume that didn't mean we had to holler at each other, my hubs and I got comfortable and relaxed. We were in the restaurant section of the
Hendricks County
establishment, which is completely separated from the bar in the adjacent space next door.
The bar offers a wide selection of local brews including Triton, Sun King and Upland, along with big screen TVs, a calendar of daily specials and a roster of entertainment on Tuesday, Thursday, Friday and Saturday nights. But on this side, and for us today, it was all about the food. All the food is prepared from scratch under the supervision of Chef Ben. Before we left, we learned he'd been trained in France and spent many years as a private chef.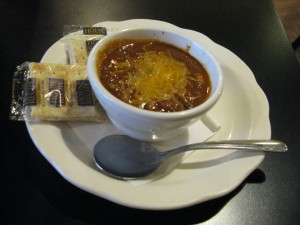 We both ordered a cup of soup for an appetizer. I had the creamy potato and the hubs could hardly wait long enough for me to take a picture before he dove into the black bean chili. We did everything but lick the bowls because both were really tasty. I liked that all the food was well seasoned, but not too salty. I ordered the Cuban sandwich and it was also really good. I could tell the sliced pork had been prepared from scratch right in the kitchen and even the pickles were not the overly-processed typical pickle-in-a-jar. Added to the plate was a heaping dish of fresh vegetables – a combination of asparagus, peppers and mushrooms seasoned and roasted – they were delicious and made me happy that I ordered the "healthy" option.
It took every bit of my will power, however, not to commandeer the homemade macaroni and cheese that came with my husband's Turkey Club. It was OMG-good – really. The sandwich was piled high with turkey and tasty, but we both wanted that mac and cheese. It's not on the menu – except the children's menu, but you can get it if you ask for it. Next time, we'll do that! Of course, because we would be sharing our meal with the world (wink, wink), we ordered desert: The Peanut Butter Brownie Sundae. Again, another ethereal moment as we shared the brownie topped with vanilla ice cream, whipped cream, peanut butter sauce and drizzled with chocolate sauce. It was definitely big enough for both of us – my husband said four could have shared it, but we ate every bite between the two of us. As we were finishing up, the new owner, Tony Hackett happened by and, of course, I had a few questions. I'd actually met him the weekend before when I tried to come in but the restaurant side was closed because it was being re-painted. The restaurant is now open for lunch at 11 a.m. In fact, there is a Lunch Card offered – buy 5 lunches and No. 6 is free. Besides that incentive, here are a few little tidbits that only reinforced in my mind that I may have found my newest favorite dining spot in Brownsburg:
Stone is a family name. So that, added to their desire to source many of their offerings locally, is the reason the establishment has been named A Stone's Throw. Tony and his wife, Nancy, actually took ownership in August of the former Cabana Room, and the doors never closed as the transition took place. Keeping in line with everything coming from within a stone's throw, the menu includes entrees from his grandma's recipe box – Nana Stone's Spaghetti is a popular selection. There is a nod to Nancy's Korean heritage on the special Halloween menu. Another specialty from Chef Ben are the chicken fingers … Tony says he even pilfers them from his kid's dishes. Not only are the spirits and foods locally sourced, so is the entertainment. Tony said he wanted to showcase the talent that is in Hendricks County. You can see the list of professional performers on the website and plan accordingly. You might also consider planning your next personal or professional event here or they can cater events as well. For the business crowd, there is free wifi, too. That makes me think I might not be the only one spending some afternoon time at A Stone's Throw. Just be sure to save me a seat – and some of that mac and cheese!
A Stone's Throw
36 E. Main St.Brownsburg, IN 46112(317) 852-4901
www.A-Stones-Throw.net