Back in February, I caught wind of a new sports bar coming to
Hendricks County
. Since "sports" and "bar" are two of my favorite words, I was excited about the arrival of 
Diesel's Sports Grille
 in 
Danville, Indiana
. After Diesel's opened to the public on April 20, I had to check it out.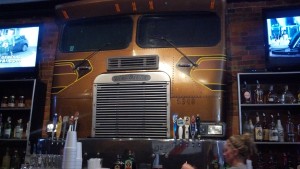 As I entered Diesel's Sports Grille located on the north side of the Historic Courthouse Square, diamond plate chair rails led me through the family dining section back toward the bar area where the front of a Freightliner semi truck -- complete with working headlights and clearance lights -- comes through the bricks. Huge high-definition televisions hang from every wall, making it the perfect place to watch the sporting event of your choice. I took a seat and felt very comfortable and relaxed. A delightful young lady named MJ immediately greeted me with a smile and
a menu
, and I asked her what she recommended. At her suggestion, I tried the tenderloin sandwich. It was tremendous! As I learned later from the owner of Diesel's Sports Grille, Scott Hill, all of their food is fresh, never frozen, and prepared as the orders come in. He and Chef Rob Patton take pride in offering gourmet food to their patrons, and that freshness and individual attention to each order certainly comes through when you bite into your meal.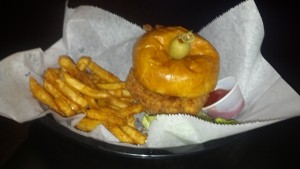 Scott has 16 years of experience as an IndyCar hospitality manager and chef, so he knows what he's doing. He ultimately tired of the traveling and time away from his wife and kids, so the idea of Diesel's was born as a way to provide for his family, stay close to home and give back to the community. He hired local people to work there -- some of whom hadn't been able to find a job in quite some time -- and offers military discounts. But as a chef, Scott's most important goal comes down to his customers leaving with happy tummies. "If you have a happy belly," he said, "I'm happy." Well, my belly was definitely throwing a party after that tenderloin!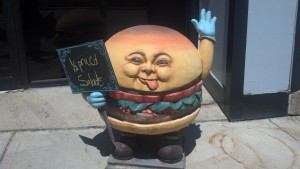 Now, I'll admit that the menu prices seemed a little steep to me at first glance. But then I noticed some key words on the menu:  all prices 
include 
sales tax. That makes it 
a lot
 more reasonable! I asked Scott why he chose to include sales tax in his pricing, risking turning customers away by virtue of "sticker shock." His answer makes perfect sense. He knows that people are on budgets in this day and age, and he also knows that it's impossible to keep track of all the local tax rates. People want to know exactly what they're paying for a meal, and he wants to make things simple for his customers. So if you order a sandwich for $9, your final bill is $9. No nasty surprises at the cash register. What a refreshing approach! They have even added a new lunch menu that includes your choice of seven sandwiches, a side and a drink or one of five salads and a drink for $7. When you consider the quality of this food, that is quite a deal!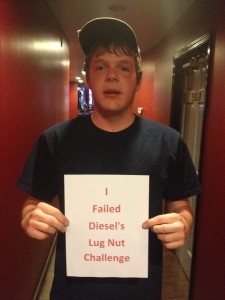 Scott also offers the bravest diners a couple of challenges: the Diesel's Lug Nut Challenge and the Diesel's Ultimate Challenge. The Lug Nut Challenge is to eat 12 Diesel's Fuel Sauce Wings in 5 minutes without taking a drink. For Diesel's Ultimate Challenge, you must eat two Big Diesel's Bacon Double Double Burgers and a pound of french fries in 30 minutes. So far, Diesel's is a perfect 4-0 against challengers, whose fates are recorded in photos on 
Diesel's Sports Grille's Facebook page
. Diesel's will celebrate its Grand Opening over the first weekend in May with two cash-only outdoor events. On Friday, May 3, coinciding with the first
First Friday Cruise-In on the Square
of the year, Diesel's will host a tent party, complete with a DJ and food and drinks served outdoors. Then on Saturday, May 4, Diesel's is hosting a free outdoor concert by the
Cornfield Mafia
. Bring your lawn chairs and enjoy this Central Indiana band from 7 to 11 p.m. Food and drinks will be served outdoors for the concert. Come to Hendricks County and give Diesel's a try! You'll leave with a happy belly.
Diesel's Sports Grille at a glance
:
20 W. Main St., Danville, Ind. (north side of the Courthouse Square)
(317) 386-3024
Hours of operation: 11 a.m. to midnight, Mon - Thurs; 11 a.m. to 2 a.m. Fri and Sat; 11 a.m. to 10 p.m. Sun
Non-smoking
Family-friendly, including a family dining section and kids' menu
Coca-Cola products
Full bar
Accepts major credit cards (except for the outdoor events on May 3 & 4)