I'm a bit home decor crazed as our family prepares for a new home. But let's be honest, the whole farmhouse obsession is nothing new for me. How about you?
I was excited when I learned that a new boutique opened a storefront on the historic Hendricks County Courthouse Square in Danville. I've stopped at Sage Home numerous times over the last few months, and here's why you need to do the same:
You can't miss this stunning storefront at 65 W. Marion St., Danville. It screams "mini-Magnolia" for those of you hip on the Chip and Joanna Gaines lingo. It's so very welcoming.
Once inside, you won't be surprised to find the very same stunning interior. Beautiful, bold colors and magazine-cover worthy displays fill every inch. 
So what does this new home furnishings boutique have to offer? Everything. Okay, that might be a stretch, but close. You'll find perfectly staged room settings, walls adorned with unique art, a host of pillows and rugs in a variety of fabrics and colors, lamps, furniture and all the finishing touches.
When I spoke with the owner, Kristie, she said that the one thing she wished that people knew was that Sage Home is not (just) a furniture store. Although she has quite the selection of furniture, all of which is in step with all the latest trends and high quality, this boutique has so much more to offer.
I knew this, of course, because I was greeted at the door by the amazing smell of the artisan candles sold at Sage Home. It's indescribable. The variety of these candles changes frequently as does all of the merchandise offered.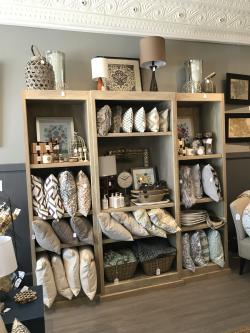 I was pleasantly surprised during my first visit to find that all the furniture, artwork, decor and gifts were the perfect combination of classic and rustic farmhouse, which is just my style. Timeless, yet trendy. Clean, yet bold. Simple, yet striking. 
My daughter has been with me a few times that I stopped in. It makes me happy that she enjoys it as much as I do, but it's not slowing down the growth of my Sage Home wish list. It's clear that Kristie has quite the eye for style, but she has also done an amazing job of mixing up the merchandise offered so that there are things available at every price point. 
That shelf you keep saying needs something. Sage Home probably has it. All those little details and finishing touches? You'll find them here. Looking for that unique, perfect piece of wall art? Stop by Sage Home, where so many are on display and ready for you to take home.
Generally, I find myself saying, "I want this whole look." The rug, the lamps, the side tables, the mini topiaries, that ceramic bird and the burning candle. I want my whole house to look like this beautiful boutique.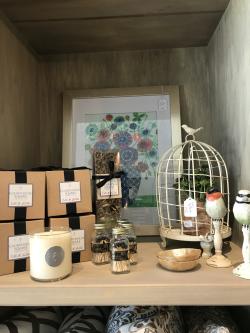 Even if you're not in the market for anything specific, you'll so enjoy the shopping experience at Sage Home. I'd also bet money that you'll find something you must have.
Looking for a great gift? Look no further. This boutique offers a wide selection of gifts such as artisan candles, handcrafted bath products, plush throw blankets and so many home decor items. For yourself or for a friend, you really can't go wrong with a trip to Sage Home.
Here are the specifics:
Address - 65 W. Marion St., Danville
Phone Number - (317) 225-3087
Hours - Tuesday - Friday from 11 a.m.-6 p.m.; Saturday 9 a.m.-1 p.m. (closed Sunday and Monday)
You should definitely follow Sage Home on Facebook for a closer look at what is offered, special hours, new merchandise and sales. 
Make your way to Danville's Courthouse Square to shop and enjoy all the beauty of Sage Home boutique.