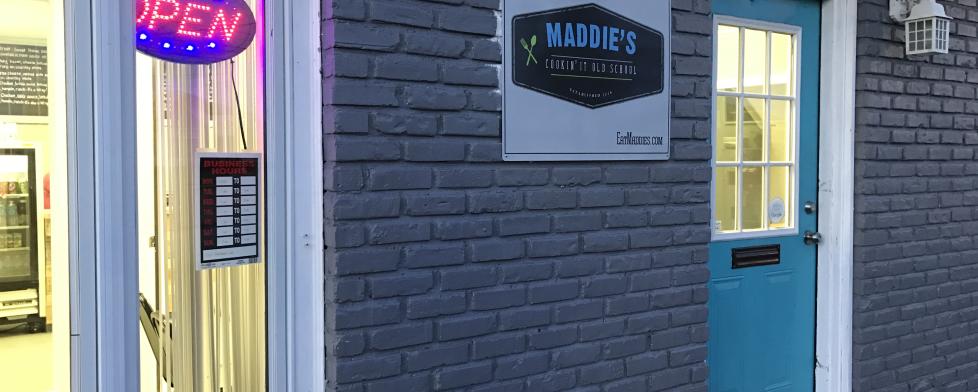 I love giving you the scoop on new businesses in Hendricks County, especially when it involves food. We boast quite the variety of dining options, and the list just continues to grow.
One of the latest additions is a deli-style eatery, Maddie's, in Brownsburg. I stopped in for a late dinner over the weekend. Here's what I found...
It was one of those Saturdays when your family seems to be here, there and everywhere. While our teens made their way to social gatherings and activities, the husband and I had an hour to grab some dinner. We wanted real food but without a big wait, so we headed to Maddie's - 640 E. Main St., Brownsburg.  
I was relieved to find that this little deli-style eatery has a casual, yet crisp and clean atmosphere with tranquil grays and teals. Maddie's also has plenty of seating including a section that is tucked off a bit from the main dining area, perfect for those looking for a quiet corner.
We were greeted upon arrival and given lots of helpful recommendations regarding the menu. We learned that the crowd favorites were The Bronx and The Drifter. So, of course, that's what we ordered. The hubs decided to go with the full sandwich with chips and a pickle. After much deliberation, I settled on the half sandwich and a cup of soup combo because they were serving corn chowder -- and we know how I feel about chowder. Our bill for both meals was under $20. Very reasonable.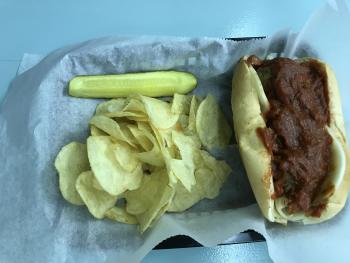 Additional sandwiches include - corned beef, sloppy joe, veggie and cheese, ham and buffalo chicken. You can substitute the traditional side of chips for pasta salad for just 25 cents more during the month of March. Maggie's also offers a variety of hot dogs and baked potatoes -- like the loaded buffalo chicken potato. You can understand my order anxiety.
Our order was brought to the table in no time. The staff was kind enough to grab us some cutlery and extra napkins - knowing we were first timers and clearly unaware of how massive the husband's sub was. The Bronx was loaded with Italian meatballs, plenty of seasonings, gooey cheese and flavorful sauce. When I stole a forkful from the husband's basket, I was surprised to find that there was also pasta at the base of the sub. Brilliant.
My sandwich, The Drifter, included turkey, bacon, cheese, lettuce, tomato and mayo. Both of our sandwiches were perfectly toasted - my favorite part. The corn chowder was creamy and delicious.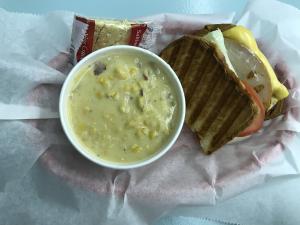 I wish we had saved room for dessert. Maddie's also offers a variety of cakes, pies and other treats -- the selection varies daily. 
After chatting with our server, I learned that Tuesdays from 2-8 p.m. are Family Night at Maddie's. Kids 12 and under can get a kids meal for just 50 cents with an adult meal purchase. They'll also offer giveaways, balloons and activities. 
I was also impressed by the take-n-bake meals, as well as a variety of sides including homemade deviled eggs that are a family recipe. So the next time you're in the area, stop in for a yummy lunch and maybe even grab a homemade casserole or pasta dish to take home for dinner.  
Maddie's is open 11 a.m.- 8 p.m. Tuesdays-Saturdays and 11 a.m.- 2 p.m. on Sundays.