Board & Brush in Brownsburg, Indiana, has been a popular DIY spot to create custom wood signs in Hendricks County ever since it opened. I've been there for a birthday party, a Christmas party and a bridal shower party.
It's always been a place to let loose, get creative and laugh with my friends. And it always feels good to walk out the door with something you made with your own hands.
When I heard it was under new ownership, I wanted to see who these new people were and if anything at the studio had changed. I met with Kyle, one of the owners, who filled me in on all the details.
New Owners
Turns out, these new people are actually a whole family who purchased the studio together, and they really aren't new at all. Kyle's parents, Kelli and Jeff Waggoner, have lived in Brownsburg for years. Kyle and his brother Grant graduated from Brownsburg High School. 
The close-knit family simply wanted something they could work on together. They had no particular direction or interests, but when they found out the previous owners were moving, they discussed and researched the opportunity as a family and decided to go for it.
Not only did they purchase the Brownsburg location, but they purchased the Carmel location as well. They hired a studio manager, Abby King, who happens to be Grant's fiance, and everyone else pitches in based on their particular role.
It turns out their family is perfectly equipped to run the studio as a team. Each member of the family brings something different to the table.
Kelli has owned a lobbying firm in Indianapolis for 30 years, so she brings her business sense. Kyle's most recent job as General Manager at the Casino Grand in Shelbyville gives him the knack to manage and work with employees. Kyle's brother Grant has worked with Kelli as a lobbyist, and his political background puts him in charge of sales and finance. And finally, Jeff flips houses, so he does all the woodcutting himself at their wood shop in their Brownsburg country home. He delivers it to the studio in their beautiful Board & Brush box truck.
What's Different
As far as what has changed, Kyle said that they never knew this business before COVID. The family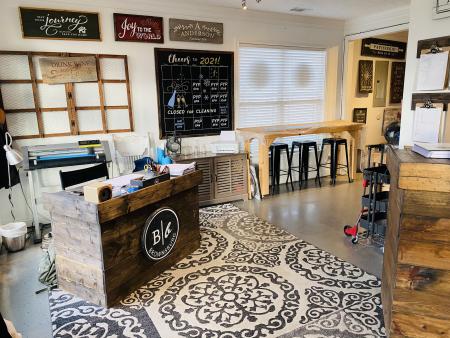 purchased it in September of 2020, so they've just incorporated the same health and safety measures as most other businesses.
When you come to the studio, you can expect masks to be required and smaller class sizes as to be respectful of social-distancing measures. Class sizes are no more than 16.
What's the Same
The process of Board and Brush classes is about the same. Classes take place Wednesdays, Fridays and Saturdays, and are usually at 6 p.m. You can typically check the Monday of that week and find open spots available, but each week will look a little different as far as bookings.
You must book online so you can pick out which project you'd like to do.
Once you arrive, your stencil will be printed out for you, and the instructor will take you through your project step by step. It's a perfect outing with a close friend or two during the bleak winter months. Share some laughs and wine while you work on a craft you can either give as a gift or proudly display in your home. 
You can stop in the studio during open hours to purchase pieces directly from the wall. 
What's Going On
Currently, there's a winter special during the months of January and February where all classes are $50! The typical price is $68. That includes materials as well as studio instruction time. Make sure you sign up for text and e-mail alerts, as sometimes mid-week specials or other promotions will get to you first! 
It's clear the Waggoner family enjoys running the studio. Kyle wants the community to know that his family knows you're taking a calculated risk to do something like this and they're doing their absolute best to make it as safe and enjoyable as possible!
If you haven't been to Board & Brush yet, check out their winter calendar, grab a friend or family member, and come see one of our most creative, family-owned DIY studios!
It's sure to keep the winter blues away, and you'll have warm memories every time you look at your own work of art.