"Finer Things" is a perfectly chosen name for this new shop in
Hendricks County
, because if you're looking for artwork, home décor, jewelry or furniture that is one of a kind, you should make a stop at Finer Things.
With items priced from $2.50 to $2,500, this Brownsburg, Ind., gem offers something for everyone's budget.
Finer Things offers a variety of original pieces and unique home decor
The store is roughly divided in halves: on one side, you'll find original work by many Indiana artisans. Paintings of all mediums grace the walls, along with drawings, photography, sculpture, carved wood, glasswork, and upcycled pieces that give new life to older items. You'll also find furniture in which the artist hand-makes every element except for the hinges. Personally, I couldn't leave without buying a unique bracelet with a wooden clasp and a pair of earrings for myself.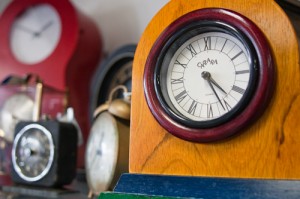 The second half of the store has an evolving variety of items collected by professional "pickers" who scour auctions and sales around the state. On your first stop at the store, you might find vintage jewelry and accessories, resale art, and a display of mantle clocks. The next time, you might find yourself drawn to the home decor, such as upcycled or refurbished furniture, vintage china, framed mirrors or autographed posters.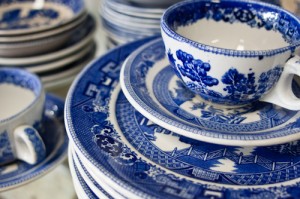 Coming soon: A working artists' studio and workshops
This fall, Finer Things will have local artists working in the back of the shop, where an open studio will allow you to watch the creativity in action. A local student at the Herron School of Art and Design, Keegan Lockwood, has some work available in the shop and has already been seen working in the studio. When I stopped by to see the store and talk to owner Melissa Arnot, he was sketching some amazing drawings on scrap paper while manning the cash register. The shop will also begin offering classes in the three-dimensional arts soon. Working in collaboration with
Artistic Designs Gallery
, which offers two-dimensional art classes, Finer Things will give you the opportunity to try your hand at mosaics, glasswork, jewelry and floral design.
Finer Things: A dream come true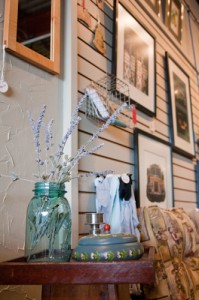 Finer Things may have just opened in Brownsburg in June, but the concept and dream have been alive for more than ten years. Melissa had a career in the mortgage industry, but found herself getting burned out. In her spare time, she went to every art fair she could find and began collecting the business cards of artists she admired, hoping she could someday turn this passion into a career. "I now wake up excited to come to work every day," Melissa said. "I want people to have fun exploring the shop, hunting and digging through the displays to find something perfect."
Visit Finer Things in Brownsburg at 1032 E. Main St. six days a week.
The shop is open from 10 a.m. to 8 p.m. Monday through Friday and from 10 a.m. to 4 p.m. on Saturdays  Learn more on
the shop's Facebook page
.
Have you been to Finer Things yet? What did you find that you couldn't resist? Tell us in the comments section below.