When the weather is as nice as it's been this summer, I like to be outside.
Hendricks County
offers several very nice parks where my wife and I can take the kids to get them out of the house, get some fresh air and exercise, and learn a thing or two. What I didn't know until recently is that Hendricks County is home to a lot more parks than I originally thought.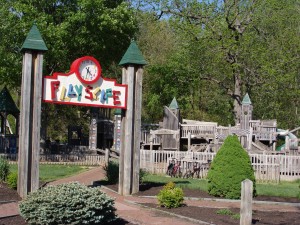 We love going to
McCloud Nature Park
in
North Salem
or to
Ellis Park
in
Danville
, but variety is the spice of life, right? I wanted to learn more about
Sodalis Nature Park
in
Plainfield
and check on the progress of the new
W.S. Gibbs Memorial Park
near
Avon
, so I got on
Hendricks County Parks & Recreation's website
and made a couple of fantastic discoveries:
They've given their website a facelift recently.
They've added a cool new countywide parks map that identifies a ton of parks within Hendricks County!
I counted a total of
44 parks
 on the interactive map! My kids are connoisseurs of playground equipment so I've been to many of the listed parks -- such as
these Hendricks County playgrounds
 highlighted by
Jennifer Donovan
. But there are some parks on there that even I, a seasoned Hendricks County insider, had never heard of or even knew existed.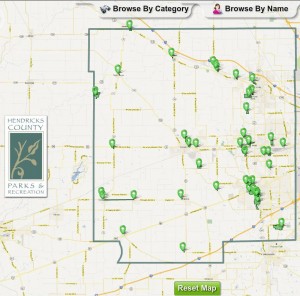 Each park on the map is identified by a green marker, and since this is an interactive map, I wanted to see what happens when you click on one of the green markers, though you can also search by category or name. I picked one park that I'm extremely familiar with, given my involvement with the
Danville Girls Softball Association
: Twin Bridges Recreation Area. Click on the green marker and a pop-up screen comes up with all kinds of information about the place:
Who owns it.
How big it is.
Whether or not there's playground equipment.
How many trails are there.
What organizations use the park.
A link to the park's website.
Driving directions and so much more.
They even include a photo of the facility.
In the case of Twin Bridges Recreation Area, the photo is of one of the softball diamonds at which I spend 90 percent of my life between March and October. And given my extensive experience with the area, I can tell you that all of the information posted on the website is accurate. What a great resource for residents and visitors alike as everyone now has cool information at your fingertips! Now I want to explore parks I know nothing about.
I clicked around and found all sorts of hidden treasures. Some have playground equipment, some have open green spaces, some have trails, some have shelters and picnic tables and grills. The first one I'm going to try is Lambert Park in
Clayton
. I've been through Clayton a zillion times but never paid enough attention to notice the 6-acre park there on West Michigan Street. The photo on the interactive website makes it look nice. I see that there's playground equipment for my kids, there's a shelter there so that I don't have to sit in the sun while they play, and there are picnic tables there for us to eat our lunch. It makes me want to go to Clayton to check out Lambert Park for myself. I'll let you know how it goes.
Hendricks County Parks & Recreation website:  click here.
Hendricks County Parks & Recreation on Facebook:  click here.
Hendricks County Parks & Recreation on Twitter:  @HCParksandRec