I'm partial to barbecue, which probably has something to do with spending my childhood in Georgia and plenty of vacations in North Carolina. I'm always seeking out barbecue in Indiana, so I was thrilled to hear about a new barbecue restaurant in
Hendricks County
, called Jimbo's BBQ. Give me some barbecue and I'm a happy gal.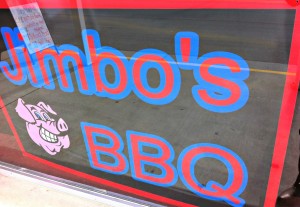 Jimbo's BBQ
is located in downtown Pittsboro, Ind., and has been open a little over a month now. My family used to own a restaurant, so I'm happy to support independent restaurants. To get to Jimbo's, I drove west from Indianapolis on U.S. 136, which is a pretty drive with lots of trees. I love looking at the changing colors. Fall is definitely happening in Hendricks County. Jimbo's makes their own dry rub with a mix of spices for their meats, and the meat is slowly cooked over hickory wood. We arrived at Jimbo's on a Saturday afternoon and waited in a short line. Jimbo's is a casual and inexpensive restaurant, where you order and pay at the counter, get your own drinks and your food is delivered to your table. I couldn't decide what to order so I went with my usual, pulled pork sandwich and a side of baked beans. I gotta stick with what I love, right? The pork was super tender. I could tell that it was slowly cooked. The side of homemade baked beans was smokey and sweet and became addictive!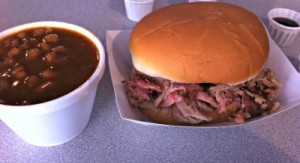 My dining companions ordered hot dogs, chips and some baked beans. They were pleased with the hot dogs and loved the baked beans as well. We planned on ordering some ribs as well, but ribs are not available until after 4 p.m. But hey, that gives us a reason to return.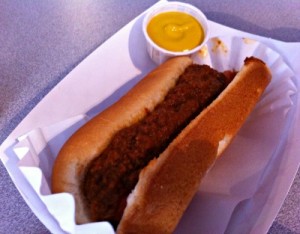 Four squeeze bottles at every table are filled with homemade barbecue sauces in different varieties: Kansas City, Memphis, North Carolina and Texas. I really liked that the meat is served without sauce, which allows you to dress your own sandwich (or ribs/rib tips). You can go with one type of sauce or combine a few of them.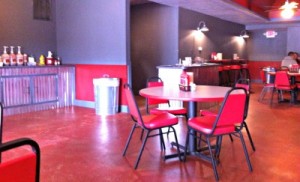 Jimbo's BBQ
23 W. Main St., Pittsboro(317) 892-1000.Open Monday through Saturday. Closed Sunday.
On the menu:
Sandwiches (pulled pork, chicken, brisket), rib tips, ribs (available after 4 p.m.), hot dogs, chili and a variety of sides (baked beans, macaroni and cheese, potato salad).
What we enjoyed:
Pulled pork sandwich, hot dogs and some of the tastiest baked beans. I'm also a fan of the four varieties of barbecue sauce that you can try at your table.
Looking forward to trying next:
Ribs.
Do they serve beer and wine?
No, soft drinks only, but Jimbo's has applied for an alcohol license.
Kid-friendly:
Yes, Jimbo's is a casual, kid-friendly restaurant. What kid doesn't enjoy barbecue or even a hot dog?
Carry out? 
Yes, all of the items are available for carry out, and they also offer catering for any parties you might be planning!
Parking:
On street parking is available and there is also a parking lot across the street.