A new Mexican restaurant opened recently in Danville, Indiana, and it's love at first bite. Los Patios Mexican Restaurant offers authentic Mexican cuisine, a family-friendly atmosphere and great prices to Hendricks County residents and visitors.
My family and I ate at Los Patios in support of a fundraiser for my daughter's travel softball team, and our first visit to the new restaurant couldn't have gone better. Immediately upon entering the restaurant located at 50 Old Farm Road in Danville, we were greeted by a friendly, smiling employee who seated us at a booth in the middle of the brightly painted and uplifting dining area that was full of what appeared to be happy diners.
Since then, Los Patios has opened a second location in Danville at 671 E. Main St. in the old Burger King building.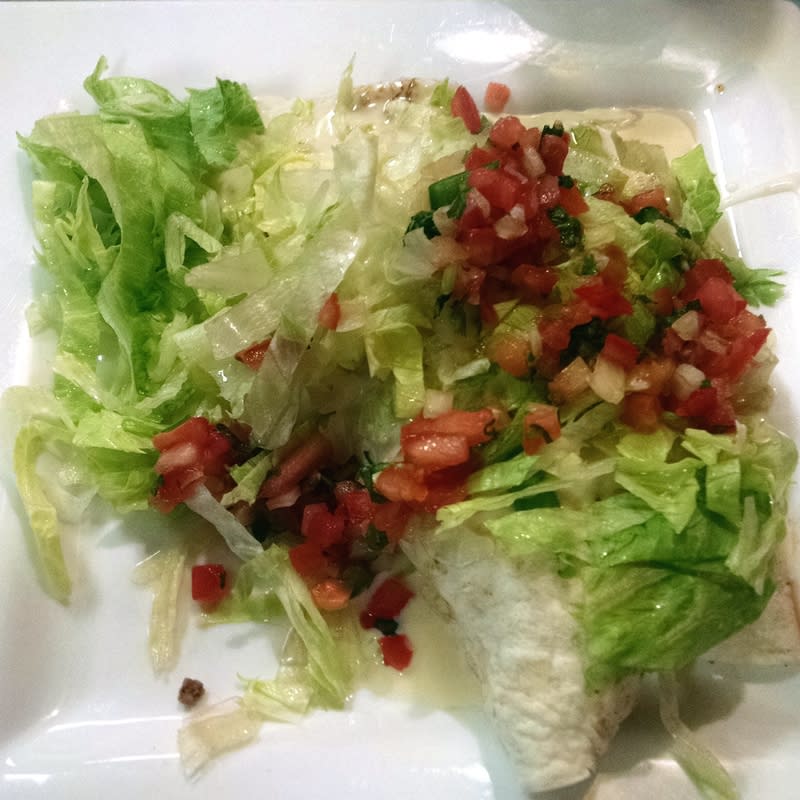 The tables and floors  at the Old Farm location were very clean, and our waitress was promptly at our booth, asking if we'd like to select beverages from their list of Coca-Cola products, wine, domestic and Mexican beers, and the staple of Mexican restaurants: margaritas.
We then perused the extensive menu for what to eat, choosing between appetizers, salads, nachos, enchiladas, burritos, quesadillas, taco salads, specialty steaks and chicken, fajitas, chimichangas, tacos, seafood and 26 combination platters. I certainly couldn't find any Mexican dish that I know of that wasn't on the menu.
Los Patios also has a menu for los niños, allowing children under the age of 12 to choose from seven classic Mexican dishes or some kid-friendly American fare: cheeseburger or chicken tenders served with fries. Almost all of the kids' meals are $3.99.
Our waitress promptly took our order, and our food came to us hot and fresh.
I ordered the Wet Burrito for $8.99, which turned out to be a huge chicken, shrimp and rice burrito wrapped in a flour tortilla and covered in cheese sauce, shredded lettuce and pico de gallo. It's an impressively large burrito that filled my big belly just fine. It was also quite delicious. Not being a fan of beans, I was pleased that beans were not a part of this dish at all, and the combination of the chicken and shrimp with all of the other flavors was out of this world.
My wife ordered a chimichanga for $7.99, and she reported that spicy chicken filling hit the spot. Her dish was so large that she couldn't finish it, and we took some of it home in a box.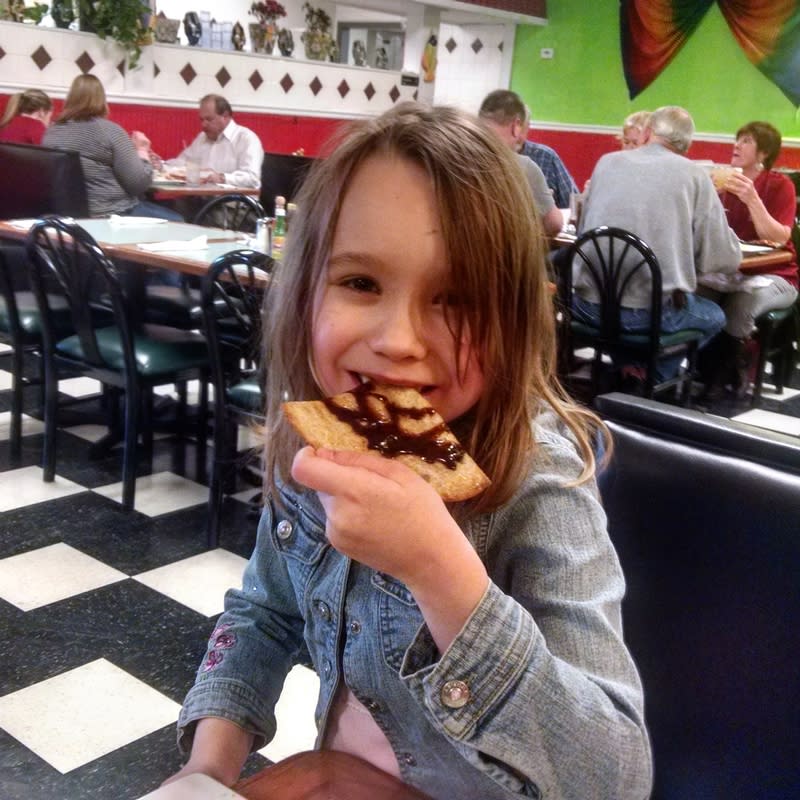 Since our visit was a fundraiser, we decided to tackle the dessert menu, too, despite feeling stuffed like piñatas. I ordered the fried ice cream, and my wife ordered the fried cheesecake. Each dessert was $3.50 -- the most expensive desserts on the menu. My dairy-intolerant daughter was quick to jump all over the sopapilla for just $1.75.
What they brought us were monstrosities.
The fried ice cream is so huge that it comes with two spoons. I had to enlist the help of my other daughter to finish it. The fried cheesecake is actually two pieces of cheesecake, one of which came home with us in a box. Both desserts are adorned with whipped cream, chocolate sauce and sprinkles.
We waddled out of Los Patios stuffed full of excellent Mexican cuisine that didn't destroy our wallets, especially considering that my wife had her lunch for the next day. Our daughters enjoyed it, too.
Our waitress was attentive without being overly intrusive throughout our meal. The restrooms are clean and well-lit. Every employee we encountered seemed genuinely cheerful, and we had a great time.
Los Patios is definitely on our list of places to return to for lunch or dinner.
Los Patios Mexican Restaurant
(317) 563-3077
Reservations accepted
Major credit cards accepted
Open Sunday through Thursday, 11 a.m. to 10 p.m.; Friday and Saturday, 11 a.m. to 10:30 p.m.