Did you know a brand new park just opened in Avon, Indiana? The first of its kind in Washington Township, Pecar Park is a 46-acre nature park with a playground, staff naturalist and campsites!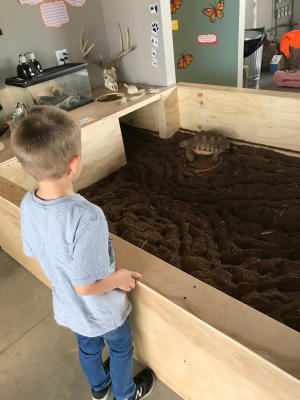 My 5-year-old son and I went to check it out, and we were delighted with what we found. The park remains in its infancy at 5203 E. County Road 150 North. The sign is right off the road and is easy to find, but the Nature Center is tucked back away from the street. The Center itself is beautiful inside and out with huge glass windows and is available for rent.
Inside the center, we found a bird observatory with big windows and binoculars. There are live animal exhibits inside as well, featuring tortoises (named Jack and Diane, which of course is ridiculously perfect), reptiles and snakes. We also found pockets of educational areas with materials, including books, a chalkboard and facts all over the walls about nature.
The park also provides something you can't find anywhere else in Washington Township: campsites! The park currently boasts eight primitive campsites, complete with a fire ring, picnic table, trash can and space for two tents. Campsites can be used Memorial Day to Labor Day. There's also a community fire pit for the campsites.
There are plans in the works to have a bird aviary at the park. Other future additions include providing a home for birds and beasts who are rescued. Park officials envision this as a win-win for the animal rescues as well as visitors who can learn more about the animals.
We found the grounds absolutely beautiful, with wide open spaces, bird feeders, space for an outdoor enclosure for the tortoises and community gardens! The gardens will grow produce for the animals while providing some space for the community to use. Anything extra will be donated to local food pantries.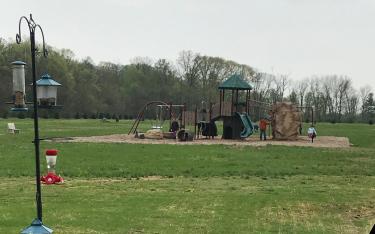 The park already boasts a small playground and a couple of trails. But this is far from a finished product. Future plans involve a prairie grass area with trails and plans to include Native American exhibits at the park. The retention pond there will also be available for kayaking (with a $5 permit purchase). Future plans also include a low ropes course at the back of the park.
If the amenities weren't enough, the programming at Pecar Park promises to deliver! There's a naturalist on staff from 10 a.m. to 3 p.m. Monday through Friday who already has scheduled Tuesday nature talks to teach the community about native plants and animals, the links between our community and the larger ecosystem and discover how to create a wildlife-friendly habitat.
The first nature talk will be June 4 from 6 to 7:30 p.m. There will also be a family campout coming up with the theme "Murder Mystery." The cherry on top will be Bunny Yoga, scheduled for Mondays.
Stay up to date on this fabulous new addition to Hendricks County by visiting the Washington Township Park Department website.