My family loves pizza. So when we kept hearing about a new pizza place in
North Salem, Ind.
, we wanted to try it!
Perillo's Pizzeria
is located at 5 S. Broadway St. (behind the antique stores). The building dates back to 1890 and was originally a doctor's office.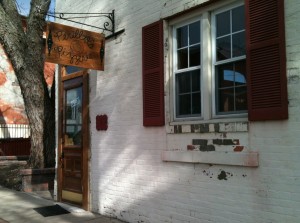 As you walk in, all your senses are assaulted, but in a good way. You hear beautiful contemporary Italian music; you smell fragrant bread baking and meat sauce simmering; and visually you are transported to an Italian eatery. Our Sunday afternoon visit to this
Hendricks County eatery
found the dining area, which accommodates approximately 35 people, already half full. A birthday party of 10 arrived without reservations but was quickly accommodated. We settled into the wooden benches and chairs and noticed a nice touch on the table with fresh flowers in a vase provided by the
Garden Gate Gift & Flower Shop
in North Salem. Our waitress immediately greeted us and took our drink order. They serve fountain soft drinks, domestic and imported bottled beer, and wine by the glass or bottle. They also offer Ale 8 — a ginger ale not easily found in this area — which excited my husband. Returning with our drinks, the waitress cheerfully answered our questions about items on the menu. Perillo's offers more than pizza. Pasta entrees include spaghetti with meatballs or Italian sausage, lasagna, meat ravioli, and baked ziti and are accompanied by a side salad and garlic roll. That day they featured a special chicken pesto served in Marsala wine sauce with mushrooms. They also have a variety of calzones and sub sandwiches. But we came for pizza so we decided to order a whole pizza, half with pepperoni and half with black olives, red onions, fresh mushrooms, and green peppers. Our waitress advised us that most customers bought one or two slices because the slices are New York style and very big. We were hungry, so we ordered a whole pizza and two pepperoni breadsticks with cheese sauce. (Be sure to keep the cheese sauce to dip the outer rim of the pizza crust.)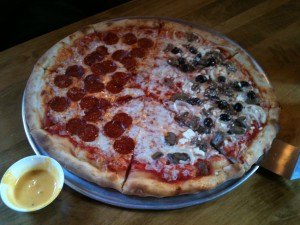 While we ate the warm and tender breadsticks, we watched in fascination as Damiano Perillo, the chef, moved about the kitchen in a blur of motion.  First, he ladled hot cheese into a small bowl, then turned to the oven and checked on a pizza, quickly he moved over to prepare the salads, filled a carry-out box with a calzone, began rolling out dough, and then deftly tossed the pizza dough so it twirled in the air! I can't imagine anyone getting tired of watching this production, but there are two television sets to watch ball games as well. When the pizza is brought out, it is placed on a stand to make more room on the table.  A good thing, too, because the 18" pizza is huge! Always remember that your waitress is the most knowledgeable person regarding the menu. The pizza had just the right blend of sauce, hot, stringy cheese and toppings. One slice and I was full; two slices and my husband decided he was finished for the night. So, we admitted defeat and asked for a take-home box for the other five slices. Thankfully, the pizza tastes just as good reheated!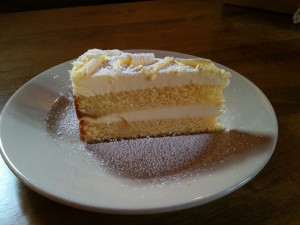 Because we heard the people at the next table raving about the limoncello dessert, we decided to order one to share. Although I am not a big fan of lemon cake, this light dessert was delicious! Next time we are going to try the traditional Italian cannoli. Pizza prices range from $2.75 for a cheese slice to $11.99 for a whole cheese pizza. Entrees range from $5.15 to $9.99. At present, Perillo's only accepts cash and checks. Carry-out is available, and there was a constant stream of people coming in to pick up their orders. Keep in mind though, that Perillo's is closed on Tuesdays. We can't wait until warm spring weather arrives so we can enjoy our meal on the beautifully landscaped patio!  However, I know we will return several times before then!