The Red Curb Improv Comedy Theatre has to be one of the best additions to Avon, Indiana, in some time. This live entertainment venue provides Chicago-style improv comedy every Saturday night with an early show for all ages at 7:30 p.m. and an adults-only (17 and up) show at 10 p.m.
The small blackbox theater, which seats around 70, is the perfect intimate venue for an evening of interactive entertainment, something we didn't have before in Hendricks County.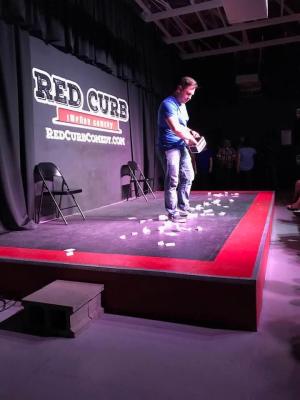 I went for the first time earlier this month, and my husband and friends and I laughed all night, something we don't always do on a date night. The chairs were arranged on three sides of the stage, and there wasn't a bad seat in the house. You could see each actor's face clearly and hear every word spoken, even above all the laughter.
I love that it's local, opened by veteran Indianapolis improviser and radio personality and producer Will Pfaffenberger who resides in Avon.
He said that improv shows feed off the audience and their energy. The performers provide a unique skill set of creating, listening and reacting to create comedy on the spot. Each night and every performance never happens the same way again.
We purchased our tickets online ahead of time ($15 online, $20 at the door), and as soon as we walked into the 7:30 show, we were drawn into the fun by being asked to write movie lines on slips of paper. Audience members put their suggestions in a box on stage and watched throughout the show as their lines were randomly chosen to be incorporated into short games or skits.
The evening included three sets: short form improv, long form improv and an improv musical. Short form is a series of short games or skits (like what's featured on the TV show, Whose Line Is It Anyway?). Long form gives the comedian more time to explore one suggestion (provided by the audience) from which performers create a narrative and characters to form a story or montage. The third set the performer makes up on the spot with live music.
As entertaining as each set was, the musical was by far the funniest and most impressive on this night, as Pfaffenberger and Jon Colby, the club's artistic director, made up a story and songs on the spot in a hilariously, mostly-cohesive story about a relationship between a father and son. There was an intermission with snacks, sodas and beer offered as concessions.
Pfaffenberger has written, performed and produced comedy professionally for almost 15 years, and he co-founded Indianapolis sketch and improv groups: Fun Dumpster, Three Dollar Bill Comedy and Dudesical. He is also the current personality and producer of The Smiley Morning Show on 99.5 WZPL.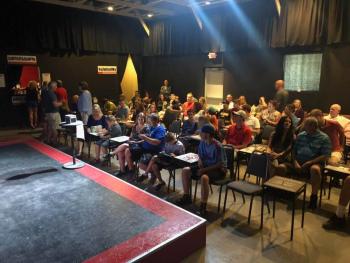 While Pfaffenberger loved taking his passion all over Indy, he and his long-time friends and collaborators felt it was time to open their own blackbox laboratory theater. He chose Avon for convenience's sake.
"We all grew up, got into our 30s, got lives and kids and didn't have as much time," he said. "It's exciting to bring my passion to my hometown. There's really not much live entertainment here."
Red Curb opened in February and enjoyed 10 straight weeks of sold out shows. Attendance has continued to be good, settling in around 40 or 50 a show each week. But even if you have been, you can always go back because each show is unique.
"There's no reason to be intimidated by it," Pfaffenberger said. "We are just like you. We aren't even sure what's going to happen next. We're all along for the same ride. We engage audience members, and that's the best way to see improv."
Pfaffenberger said his next goal for Red Curb is to train young performers. Red Curb currently features veterans from Indy, but he would love to add some fresh, young talent to its mix.
The theater is also available for businesses, groups or organizations to rent for meeting space, a party, live band or show. Pfaffenberger said he wants Red Curb to feel like a community destination that's accessible to people outside of the weekend comedy shows.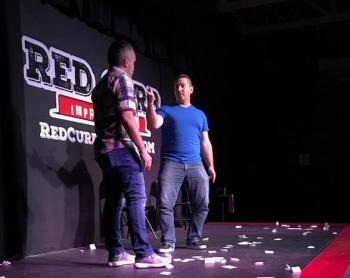 In July, some celebrity guests will grace the Red Curb stage making it the perfect time to try out the county's newest entertainment venue. The local celebrity guests will act as monologists (story tellers) during each show's long-form set.
The schedule for July includes:
Saturday July 7: WTHR-13's Julia Moffitt
Saturday July 14: 99.5 WZPL-FM's Dave Smiley & Toni Williams from The Smiley Morning Show.
Saturday July 21: 99.5 WZPL-FM's Nikki Reed from The Smiley Morning Show.
Saturday July 28: Former Indiana Pacer, David Harrison.   
To purchase tickets or for more information, visit the Red Curb website. You can also find them on Facebook.
Red Curb is located at 8403 E. U.S. 36, Avon, Indiana, in the same complex as The Avon Barbershop, The iShop, Frye Electric and J.R. Funningan's Jump and Play.