On April 14, Scotty's Brewhouse opened to the public in Brownsburg. Perfect for lovers of craft beer and good burgers, it's great for families or a date night.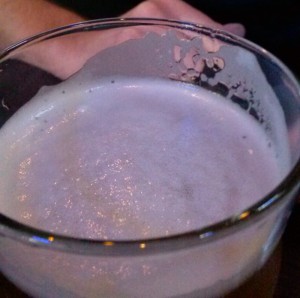 When I heard that Scotty's was coming to Hendricks County, I got unreasonably excited. A couple of years back, my husband and I strolled into Indy for a weekend and ate at the Scotty's downtown. We absolutely loved it, but rarely find ourselves downtown to enjoy the restaurants there. However, with it in Brownsburg? We've gone twice since it opened. Both times we went the place was packed, but they gave us a startlingly accurate wait time, and we received a text message with a link to the wait list to keep an eye on it, plus another text when our table was ready. The atmosphere is what you would expect from a sports bar with TV's lining the wall, and bar-style high tables (with a few large booths mixed in).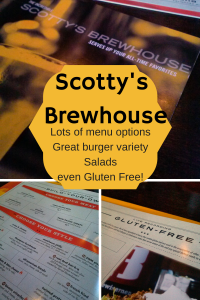 The menu is nice and varied, with burgers, sandwiches, and even gluten-free options. The servers are always happy to explain the burger ordering page. After all, in a place with varied options for type of burgers, not to mention a 'create your own' sort of option, sometimes an explanation is helpful. The beer menu boasts 30 craft beers to try, and you can even order a sampler of three 6-ounce beers for $6. We started with fried pickles because there is nothing better than fried pickles dipped in ranch or Scotty's mo'fo' mustard if you like it spicy. However, I was sorely tempted by the garlic & parm shoestring fries. Next time we go, I'm thinking I'll have to get those instead to try them out. I've had the Shewman Special – peanut butter and jalapeños – not a mix I expected to like, but with all the raves over it I had to try. Shockingly delicious.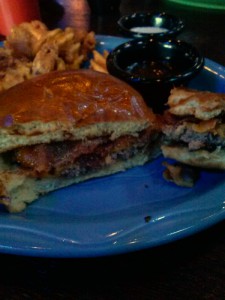 My favorite, though, has been the backyard bar-b-q. Bacon, cheddar cheese, and bar-b-q sauce with a little lettuce on top is my dream combination. I've been searching for a while for a great local place for the best bacon bar-b-q burger, and Scotty's had it. Honestly, you can ask my husband, Erik. I never finish an entire meal at a restaurant, ever. This time, I cleaned my plate thoroughly. Right down to the waffle fries with nacho cheese and bacon.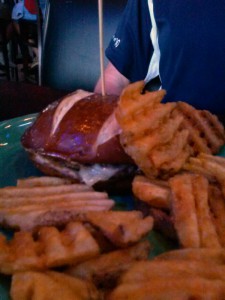 My husband, Erik, has much simpler tastes. He likes a classic burger, plain — but at Scotty's, he takes it a step further with a pretzel bun. He had to slap my hand away from sneaking pieces of his bun for myself. Of course, you can't go to a brewhouse without tasting the craft beer. When Erik had trouble deciding, our excellent waiter (Jordan) offered a sample of his recommendation, the Snow Bunny Blond. Erik took one sip and immediately went back for seconds — so he ordered a pint.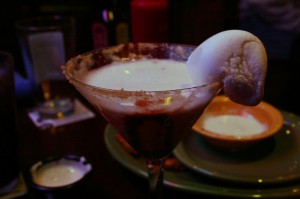 Me, I'm not much of a drinker, certainly not of beer. Also, I was driving this time, so I went without. I would be remiss to not mention, though, the Smore's-tini. I had it at the downtown location, and it is to die for (look at that giant marshmallow). Next time I go, I plan to not be the designated driver so I can try the caramel appletini. I love anything caramel apple. We haven't taken the kids yet, but Scotty's was packed with kids, and I've taken a look at their kids menu. It's incredibly varied (there's even a peanut butter and honey sandwich, and an English muffin pizza), and reasonably priced for what you get, including the drink and side. Oh, and did I mention if you join Scotty's VIP club, kids eat free on Sundays and Tuesdays? Yup, free. Guess what we signed up for?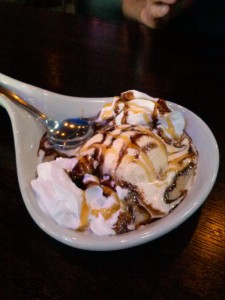 Of course, what delicious and filling dinner would be complete without a scrumptious dessert? Somehow we managed to find room for the half-baked cookie dough monster skillet. Topped with ice cream, caramel and chocolate syrup, it was delicious. I'm almost ashamed to say it was gone in about three minutes between the two of us. Overall, Scotty's was a total win for us. They have 30 craft beers to try, and Erik has 29 more to get through. I plan to expand my burger selection — the real deal bar-b-q will be next on my list, I think. So stop by Scotty's as soon as you can. It's located at 251 W. Northfield Drive — right off I-74, across from Walmart where the former Hurricane Grill & Wings was located.