By now you have probably heard talk of a new place in Hendricks County that has everyone jumping with joy. Literally, kids are jumping all their energy away, and parents are joyful because well…the energy is gone!
Sky Zone Indoor Trampoline Park
has made its home in
Hendricks County
offering the world's first all-trampoline playing courts.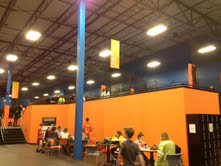 After several of my friends took their kids to Sky Zone over winter break, I thought it was time for this old gal to check it out. Sky Zone is located in Plainfield near I-70 off Columbia Road. Sky Zone has something for every age and offers convenient hours. They are open every day but Monday with specific times for different age groups to make it safer and more enjoyable for all. For example, they offer a toddler jump time every Friday from 11 a.m.-noon for all children under 5. I plan to take my daughter to this so that she can exert some energy in a fun way with kids her age. Sky Zone has taken residence in the Plainfield industrial area, the perfect property for this massive playground. Upon entering Sky Zone one thing was clear, this place was all about fun. From the bright colors, music, smell of pizza and popcorn to the happiness on the faces of all the kids. After entering, we were greeted and a staff member helped us purchase the jump package that best fit our needs. Sky Zone prices are based off the amount of time you pay to jump. Prices start at $9 for 30 minutes to $20 for 120 minutes. *Note: If you want to be guaranteed to jump at the time you would like, it is best to pre-purchase tickets. Sky Zone caps its capacity to keep the jumping safe and fun for all. Sky Zone requires a liability waiver for each jumper. Participants under age 18 must have a waiver signed by their parent or legal guardian. Jumpers are also given protective high-top shoes upon entering to make a safer jumping environment for all.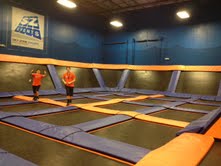 I made my way up to the jump platforms to see what all the hype was about. Let me say this place is really impressive. With six different jumping courts, there is something for everyone. The large trampoline courts include one for dodge ball, one for basketball, which even allows jumpers to dunk if they can fly high enough, a foam ball pit, and some large jump trampolines where all can run wild until their heart is content. Sky Zone's courts are patent protected, and what makes them so awesome is they have trampoline sides allowing you to actually bounce off the walls! Participants were having a great time on all the courts. The most intense jumping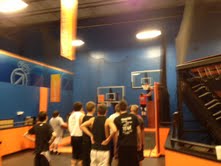 action could be found on the dodge ball and basketball courts. You would have thought these teens were in a dunk contest with the cheering that was taking place at the court. Not only were all the jumpers having a blast but from the looks of it the " chaperons" were enjoying themselves as well as many sat in the seating area near the courts enjoying a snack in quiet. I even caught a few getting a chance to read. Sky Zone is not only a great place for a cold wintry day but it makes a great location for your child's next party. With several packages to chose from, they all promise a great time. All packages include great amenities including: an hour of jump time and shoe rental, 40 minutes in a private-party room, food, drinks and more! Check out
Sky Zone's website
for information on their party options.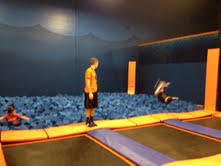 Looking for a way to spice up your work out in 2013? Sky Zone offers fun fitness with SkyRobics. Classes start at $12 a single session or a 10-class, super-fit pass can be purchased for $99. Updated classes are listed on their 
website
. Happy Jumping!