A new burger joint with a little bit of everything has been added to
Hendricks County's dining options
.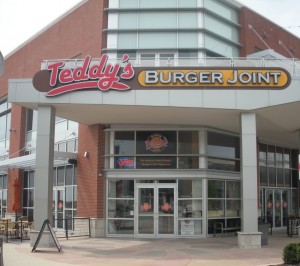 I visited the newest attraction in
Metropolis Mall
last week when I stopped for lunch at Teddy's Burger Joint. Located right across from the information center along Futura Park Way, this new eatery is hard to miss, and boy was it worth the visit. The new Plainfield, Ind., location is Teddy's Burger Joint's second opened by founders Corey and Amanda Larson, who live in Johnson County. Corey told me the couple actually wrote their business plan while still living in Texas, and then they moved back here to be closer to family and to implement it. Their first restaurant is located in the Southport area. They really developed a simple yet brilliant plan: Provide good food, plenty to drink, throw in a play area for the kiddos and plenty of televisions for the adults in a comfortable yet attractive atmosphere. The children's play area includes arcade games in one room and an adjoining room with chalk board walls. When I first walked in, the interior of
Teddy's Burger Joint
had a Texas steakhouse kind of vibe complete with swinging bar doors leading into a spacious bar with plenty of televisions.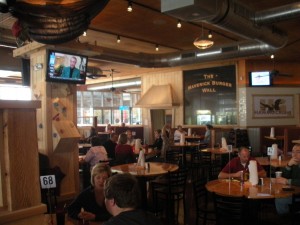 If you have children under 21 or just don't want to sit at the bar, you wait in line before placing your order at a counter. You then are given a number that you take to your seat in their spacious family dining area. They also have a lot of outdoor patio seating on both sides of the restaurant. Teddy's menu is fairly simplistic but loaded and seems to have something for every taste. Their specialty is of course their burgers and they have quite the selection including gourmet choices that Corey said came about while literally brainstorming around a campfire with family and friends. Some of their gourmet specialties include a Bison Burger, Hawaiian Burger, Nacho Burger and Stromboli Burger. However, their most popular burgers include the Teddy Bear topped with an onion ring, barbecue sauce, bacon and cheddar cheese and the Cajun Burger with Cajun spice, cayenne sauce, peppers, onions and pepper jack cheese. The menu also includes hand-breaded tenderloins, fish, gourmet salads, veggie and turkey burgers, hot dogs, appetizers and a full children's menu. They also have plenty of alcohol including nearly 90 beer selections and wine.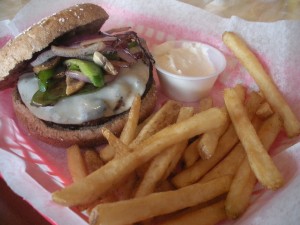 I decided on their Phily Burger and fries on a whole wheat bun. The bartender recommended their homemade horseradish mayonnaise, which sounded interesting. In fact, I soon learned they have a variety of homemade mayonnaises, including garlic, chipotle, wasabi, pesto and cilantro. My Phily Burger had just the right amount of flavor and crunch from perfectly cooked veggies including green peppers, onions and mushrooms, and boy did the horseradish mayonnaise complete it. I'm not the biggest horseradish fan, but it wasn't overpowering at all. I could tell the burger was cooked over an open fire as its smoky grilled flavor burst into my mouth with every bite. It didn't take me long to devour this dish. I can't wait to bring my family back. The hours for Teddy's Burger Joint are 11 a.m. to 9 p.m. Sunday-Thursday and 11 a.m. to 11 p.m. Friday and Saturday. Prices range from about $6-$10.
Have you tried it yet? Share your experience in the comments section below.