There's a new entertainment venue in town that gives you the chance to be and experience almost anything you want through the use of virtual reality. Virtual Galaxy, a virtual reality cafe, opened last month and is located at 291 Shiloh Crossing Drive, near the Shiloh Movie Theater in Avon, Indiana. It offers virtual reality play in a wide variety of genres.
Owners Jim and Dawn Brahos have always wanted to own and run their own business. They were inspired by their oldest son Alex's interest in virtual reality. In fact, Virtual Galaxy was named after him because his nickname since he was small has always been "G 'Alex' y."
Virtual reality allows you to actually immerse yourself in a video game. It's like playing Mario, but you're actually Mario.
And to prove how cool it was, they let me try it.
The Experience
I will admit I was a little nervous. I am a tad prone to motion sickness. But once the headset was on, it was like I was in a totally different world. I tried my hand at defending a castle by shooting bow and arrows, but I wasn't quite fast (or coordinated) enough.
So the staff chose something that was a slower pace for me: cooking. Soon I found myself in a kitchen at a restaurant. With each ticket that came across the counter, I read specific instructions on how to make the item. I could navigate the kitchen 180 degrees to open the refrigerator, pour water in a tea kettle or crack eggs onto a grill. It really was just like being in a different world.
Virtual reality play is still something you don't see nearly as often as bowling or laser tag. In fact, Virtual Galaxy is only one of two places in Indy and one of five in Indiana, and it's the only one with an open concept design to create a more social atmosphere.
Cost
Virtual Galaxy currently offers a library of more than 70 games. Each session lasts 15 minutes, and costs $12. Two sessions cost $11 each and three or more sessions cost $10 each.
Open Concept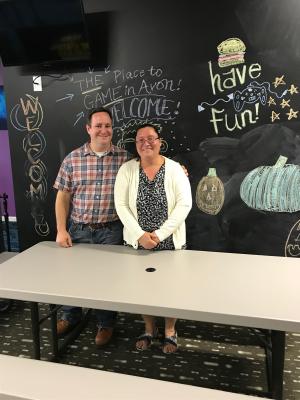 Most VR places have individual booths and tend to focus on the individual experience. Dawn and Jim decided to make this virtual reality experience more of a community event by creating an open concept room with tables and a cafe offering a selection of food, drinks and shakes. Groups of friends and family can come, watch each other play, comment and laugh and share a bite to eat while they take turns participating.
They also offer multi-player games where groups can all play in the same world at the same time, and are able to see and talk to each other.
There is one separate enclosed room should younger kids attend whose parents may not want them seeing some of the more violent games.
Giving Back
The Brahos have already jumped into supporting local schools. The Radio & Television Department at Avon High School is doing a class project on Virtual Galaxy. Dawn is seeking to sponsor the class to help current teachers revive the program. Their funds will help purchase new equipment for the Radio & Television Department.
Virtual Galaxy also will host a field trip for a class allowing students to experience roller coasters while learning about velocity. They will also be able to access Educational Google Expedition to tour medieval castles using virtual reality while listening to a tour guide teaching from a lesson plan.
This place is definitely worth checking out! It's new, family-friendly and supports the local community.
Information
Stay up to date on their happenings by following them on Twitter, Instagram, Facebook, or by visiting their website. Their hours are Thursdays 4 to 8 p.m., Fridays 4 to 11 p.m., Saturdays 11 a.m. to 11 p.m. and Sundays noon to 8 p.m.