Brr, it's cold out! When it comes to this time of year, I look for every possible way to be indoors and comfy.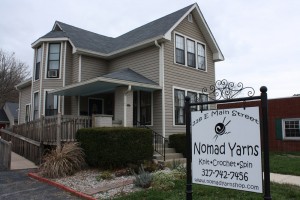 One of my favorite locations in town to visit to revamp my creativity in
Hendricks County
is
Nomad Yarns
in Plainfield. Nomad Yarns located in the heart of downtown Plainfield off U.S. 40 at 218 E. Main St. is just about the cutest yarn shop you will ever find, and it recently got bigger and better. Nomad Yarns Owners Dave and Erica were residing in the upstairs of their location but recently moved out to expand the store. The store now includes all 5 rooms downstairs (1 of these is just patterns and books), a dedicated spinning/felting/dyeing area upstairs plus a bigger classroom.
The expansion has greatly increased the size of the store and its offerings. For those who have never visited this yarn shop, it is a must try. Even if you don't knit or crochet, they are constantly offering classes for all levels. The store is beautifully laid out in an old Victorian home, and the bright colors and luxurious textures is enough to make anyone want to take up some form of crafting. The new expansion offers more space, and the classes are a plenty. On top of regular class offerings, the shop offers several opportunities weekly to come and craft in the shop for free. What a great opportunity to get some friends together in a fun spot to craft! Thinking of trying something new? Here are some of their upcoming offerings:
Jan 4
: 1-4 p.m. My First Sweater $30 If you've never knit a garment or want to learn a new style, this top-down yoke sweater class is for you. They will go over choosing yarn, how to get a good fit and customizing your first (or 10
th
) sweater!
Jan 8
: 11 a.m.-1 p.m. Beyond Beginning Knitting $20 Know the basics of how to knit and purl but can't figure out what comes next? You need this class! They will go over pattern reading, charts, yarn selection, gauge, fixing mistakes and more.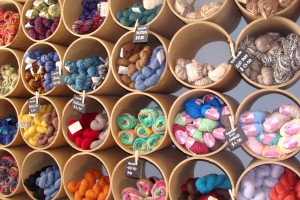 Jan 11
: 11 a.m.-1 p.m. - Entrelac Scarf $20 Challenge yourself to a new skill, and learn to make this interesting, woven-looking fabric with just knits and purls. Be sure to check out this great local store this winter! What could be better than creating your own comfy socks to keep your toes warm!