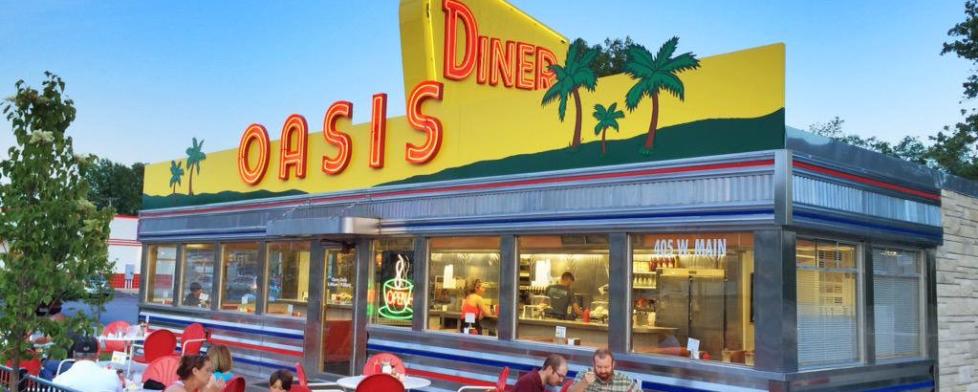 Are you searching for an authentic 1950's diner experience, appreciate history and nostalgia and want to indulge in a fresh, delicious meal? Well, look no further than Plainfield, Indiana, and specifically along U.S. 40, the historic National Road that once traversed the entire continental United States from Atlantic City, N.J., to San Francisco.
The Oasis Diner, 405 W. Main St., is the only diner on the National Road in Indiana and is a popular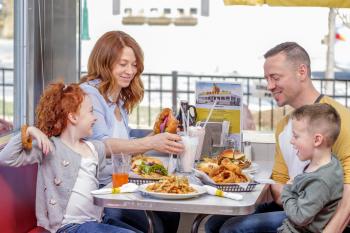 Hendricks County establishment. The exterior and front interior were restored a few years ago to its original 1954 look. Not only does the diner take you back to "the good old days," but it offers a wide variety of fresh appetizers, main dishes, drinks and desserts.
Recently, the Oasis Diner improved their menu by adding new items and making a few changes.
Don't worry, all their previous breakfast, lunch, and dinner menu items are still available. Guest favorites include their "Indiana-famous" original tenderloin, reuben, deluxe grilled cheese, breakfast National Road specials and biscuits and gravy. 
My family and I have been to the diner several times for breakfast. We usually order omelettes, National Road specials and pancakes for my daughters. We were excited to see that new options have been added to the breakfast menu, such as the St.Louis Slinger and San Francisco Avocado Toast.
Both of these National Road Specials were tempting, especially the St. Louis Slinger. It consists of a half pound burger, jalapenos, diced onions, house-made chili, melted cheddar cheese, and two eggs on top of hash browns. We decided beforehand to try lunch options on this visit, so we had to pass on the new breakfast items. 
I love fried mozzarella cheese and couldn't resist ordering them for an appetizer. These hand-breaded mozzarella "triangles" were super tasty, and the cheese was perfectly melted. 
New burgers and sandwiches are now available. My husband choose the Brunch Burger, which consists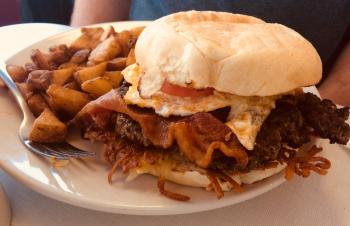 of hash browns, a half pound premium Black Angus burger, fried egg, bacon, tomato, cheese and mayo on an oversized english muffin. He was definitely happy with his choice. After one bite, I could see why with a great combination of flavors and textures. Fries accompanied the burger. and more than once he commented on how great they tasted.
The Oasis is known for their original pork tenderloin (fried, grilled or blackened). A fellow guest seated close by ordered it. As soon as it was placed in front of him he stated, "Wow, I'm going to be here awhile".
When they claim it's bigger than your head, they aren't exaggerating. My husband and I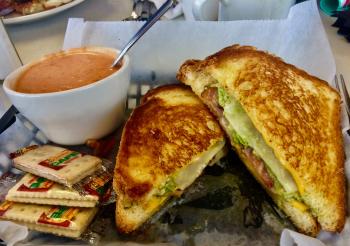 agreed to split one on our next visit. 
I decided on another popular classic sandwich, the deluxe grilled cheese with tomato basil bisque soup. I can see why this is a crowd pleaser.
The delicious combination of four cheeses, crispy bacon, roasted tomatoes and avocado relish went superbly with the homemade soup. They try to use fresh ingredients as much as possible which is obvious in the quality and taste of the sandwich.
My daughter ordered grilled peanut butter and jelly with a side of apple sauce. The best part about the kids menu is a scoop of ice cream is now included with all lunch and dinner meals.
Speaking of ice cream, the Oasis Diner is now serving super-premium, hand-dipped ice cream from the Chocolate Shoppe Ice Cream Company out of Madison, Wisc. Locals may recognize this company as Wylie's in Brownsburg also serves this brand.
The Oasis Diner remains the only eatery in Plainfield to serve hand-dipped ice cream. They offer six to eight flavors with your choice of a dish or cone. April's flavor of the month is butter pecan. Other mouthwatering flavors include olde fashioned vanilla, Zanzibar chocolate, Oreo and Blue Moon.
The same great cool treat options remain on the menu including shakes, malts, floats, sundaes and the latest addition, ice cream cookie sandwiches. I'm looking forward to spending a warm evening on their inviting patio indulging in one of these cool treats.
Not in the mood for ice cream? Not a problem. The diner offers other dessert selections, such as pies and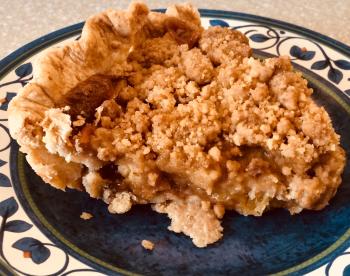 beignets, to satisfy that sweet tooth. When I think of authentic diners, homemade pies immediately come to mind.
Although I was completely stuffed, I wanted to try a piece of pie. The server listed all the selections, such as dutch apple, sugar cream, pumpkin, pecan, cherry, and more. I choose the dutch apple and ordered it to go. Had I eaten it there, I would have added a scoop of vanilla ice cream.
My daughter ordered it for her dessert and loved it. She only let me have one bite, but it was enough to see why they serve super-premium, hand-dipped ice cream.
You might be wondering who makes and bakes these wonderful pies. Emily Cline, the original baker, left Oasis Diner awhile back and started her own bakery in Clayton, The Singing Crust. Oasis now purchases all bakery items, pies, cakes, breads and pastries from her.
Her quality products are top notch and are available on the baker's rack inside the diner. Arcane Coffee Company in Danville also sells her products, and they are also available at local summer farmers markets.
I could go on and on about all the reasons you should visit Oasis Diner. The minute you pull up and walk inside, nostalgia hits, and you are transported back to the 1950's. Grab a seat at the bar for that "extra" authentic diner experience. Other seating options include the restored 1954 front interior, the added-on back interior and the outdoor patio.
Oasis serves breakfast all day, the lunch and dinner menus begin at 11 a.m. If you are craving something sweet, stop in for one or two of their delectable desserts. 
Also a member of The three-county Rural Routes to Main Street Cultural Trail, see for yourself why the Oasis Diner has become a popular Hendricks County destination restaurant!